A sight you do not want to see in the morning as you're walking down Bedford Avenue in Brooklyn toward the L train subway stop is a long line of commuters outside the local livery cab dispatch station. It can only mean one thing: the trains aren't moving. That's what happened Monday morning. Now the question is: will it keep happening? 
Multiple L trains, filled beyond capacity from picking up passengers on city-bound runs through a wide swath of Brooklyn, couldn't leave the borough because nothing was moving on the Manhattan side of the tunnel. Those passengers were disgorged onto a dangerously overcrowded platform at the Bedford Avenue Station, where they absorbed conflicting messages from an overtaxed public address system. Most gave up and left. ("Officially changed my major to complaining about the #Ltrain," Tweeted rider Madeline Erlich.) 

MTA spokesman Charles Seaton explained that signal problems around the First Avenue station resulted in "three trains with brakes in emergency."
A subway train's emergency brakes are tripped when it moves through a red signal. Seaton wouldn't say whether that is what caused the major delay, which drove commuters above ground in search of cabs, ferries or, after nearly a mile walk, the closest alternative subway station. He did say that, "There is a problem with a track circuit affecting the signals."
In other words, an electrical malfunction messed up the signals and that stopped three trains in their tracks, blocking the tunnel and stranding half of Brooklyn on the wrong side of the East River during rush hour. But the electrical nature of the problem raises the question of whether Storm Sandy, seven-and-a-half months after it blew through New York, was at the root of the turmoil.
It took 11 days to restore service to The Canarsie tube, used by the L train, after Sandy flooded it from track to ceiling. MTA interim executive director Tom Prendergast has repeatedly warned since then that electrical components exposed to salt water are less reliable and operating on a shorter life span. For example, the R train has been seeing a 120 percent increase in delays since Sandy flooded its Montague tunnel.
The R train will soon be shut down for a year of Sandy-related repairs. Could a similar fate await the L train? It would be a hard blow for its riders because there are fewer alternative lines than exist for the R train. And the L train's ridership is growing: by 141 percent between 1998 and 2012, largely because of a population boom in Williamsburg and Greenpoint.
Seaton wouldn't comment on whether damage from Sandy contributed to Monday's L train delay--only that "the cause is under investigation."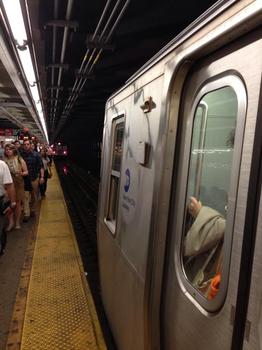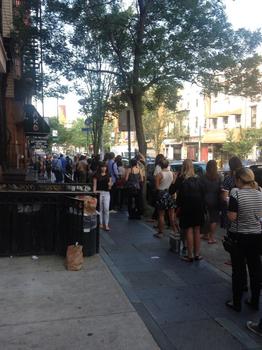 of