The 'Most Expensive Beach in America' Gets More So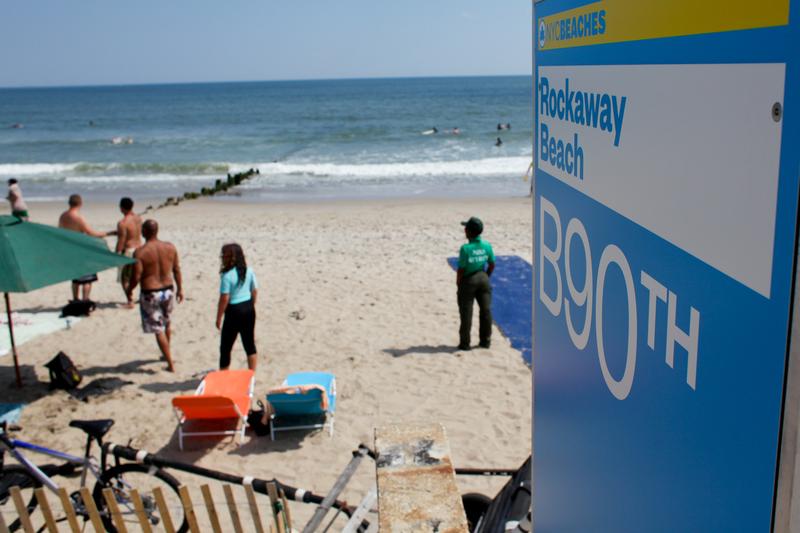 This summer the beaches in the Rockaways may be more crowded than in past years. That's because there is less beach to bask on: Sandy made it a lot narrower. The U.S. Army Corps of Engineers will start to replace that lost sand, making the most expensive beach in America even more costly.
Standing at Beach 86th Street on a recent afternoon, Rockaway-native John Cori, 50, remembers when Rockaway Beach was so eroded that waves had eaten away the sand under the boardwalk steps.
"There were 14 steps to get to the beach," he said. "And then you had to jump another 4 feet to get on the beach."
But at the end of the 1970s, Rockaway Beach got a federal cash infusion. The Army Corps added millions of dollars' worth of sand. But funding ran dry by 2004. And then came Sandy. The storm's waves ate into the shore and sucked sand into deeper water, and some of it moved down the coast. All in all, the Army Corps estimated that 1.5 million cubic yards of sand disappeared, enough to fill the Empire State Building.
This summer, the Army Corps of Engineers will spend $10 million to restore half of the sand lost during Sandy to Rockaway Beach.
But even before these repairs, Rockaway Beach, which spans 6.2 miles, and nine neighborhoods from Beach 9th Street to Beach 149th Street was expensive to maintain. It's received over $216,928,138 in today's dollars since 1926, according to Andy Coburn, the associate director of the Program for the Study of Developed Shorelines at Western Carolina University, located in Cullowhee, N.C. He crunched the cost of nourishment using available federal, state and local records and found Rockaway Beach cost more than any other beach in America.
The next most costly is Virginia Beach, Va., at $203,944,955, followed by Cape May, N.J., at $169,277,455.
Rockaway Beach at Beach 108th Street where the pilings of the boardwalk are nearly covered in sand. (Stephen Nessen/WNYC)
Rockaway Beach at Beach 149th Street where the city is beginning to repair baffle walls. (Stephen Nessen/WNYC)
Rockaway Beach at Beach 90th Street. (Stephen Nessen/WNYC)
John Cori, founder of Friends of Rockaway Beach, an advocacy group that is calling for more sand and protection of the beaches. (Stephen Nessen/WNYC)
Trap bags at Rockaway Beach being installed to protect nearby residences from storm surges. (Stephen Nessen/WNYC)
Construction on the beach at Beach 108th Street. (Stephen Nessen/WNYC)
Swimming not allowed at certain sections of Rockaway Beach like at 90th Street. (Stephen Nessen/WNYC)