Last Chance Foods: What's In Your Bibimbap?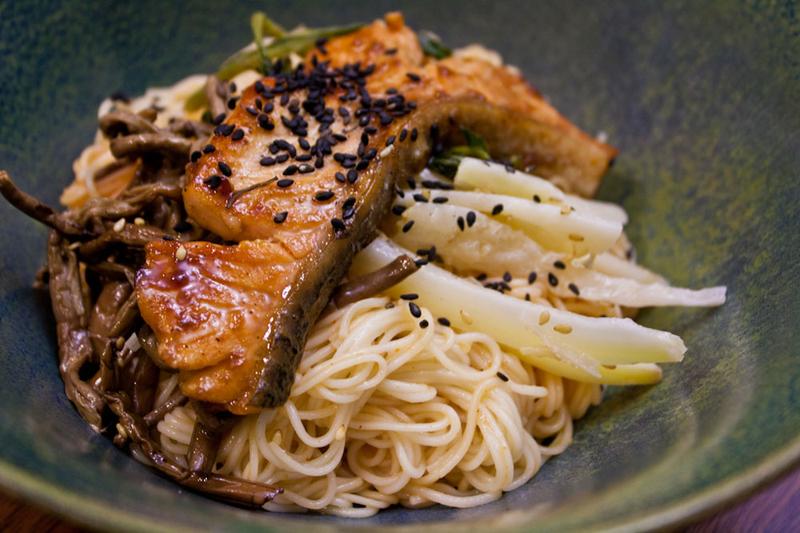 Bibimbap is a Korean dish of rice and vegetables familiar to many. But what's in that delicious melange? Two important ingredients, according to Christine Colligan, are kosari, also known in English as fernbrake, and doraji, which is bellflower root.
Colligan works as a parent coordinator in the New York City school systems and promotes Korean food culture in her free time. She noted with a laugh that, as a Korean woman with an Irish last name, people tend to remember her. The outgoing former shoe designer recently teamed up with journalist Anne Noyes Saini for the first edition of The Mother-in-Law Cooking Chronicles, a podcast about food from different cultures debuting on Narratively in July.
Colligan noted kosari is an ingredient that was used even before refrigeration became common. "What they did was they cut all the fernbrake and dried it in a nice sunny [patch] and keep it all year round," she said. These days, kosari comes dried in packages.
Kosari doesn't have a very strong flavor, but the texture is firm and slightly chewy. "This is called meat from the mountain," said Colligan. When using the dried version, she advised soaking it overnight, seeing the water out of it, and then sauteing it with garlic and minced onion. Colligan said to season it with soy sauce and a little sugar, and cautioned to only add the soy sauce toward the end of the cooking process so that the vegetable doesn't become too salty.
Doraji, the white root of bellflower, has a more distinctive taste. "It's kind of fibrous," says Noyes Saini. "It's kind of an interesting alternative vegetable to use. It soaks up the flavor but it has kind of its own... maybe slightly bitter flavor."
She'd purchased packages of kosari and doraji at a Korean grocery store in midtown, and added that she was excited to return home and make good use of both. Noyes Saini grew up in North Dakota and was relatively unfamiliar with Korean cooking. Colligan has helped make both Noyes Saini and her in-laws fans of Korean food.
(Photo: Christine Colligan/Mark Rinaldi)
"My Italian in-laws, whenever they came [over], when I first got married, I cooked Korean food," she said. "Then about five years later, I feel like, am I so selfish? I always cook [Korean food] without even ask them. So one day I just cook all Italian that I learned from my mother-in-law. Then everybody was upset! They said, Christine, what are you doing? I said, Uncle Michael, what are you talking about?"
Colligan's family explained that they ate Italian food all the time. What they wanted to eat at her house was kimchi and bulgogi.
Noyes Saini explained that her husband also hails from a different culture and getting to know his mother helped inspire the Mother-in-Law Cooking Chronicles.
"I learned almost from day one how to cook Indian food with my mother-in-law," she said. "It sort of made me wonder how awesome it would be to have a mother-in-law from Korean, or Serbia, or any country... and learn... real family recipes, authentic recipes. So we're trying to capture those recipes but at the same time also tell stories about immigration, how food changes when you come to a new place, how you preserve your traditions, or how you change them."
Below, try Colligan's recipe for a traditional Korean side dish that uses both kosari and doraji.
Samsek Namul (Three-Colored Vegetables)
serves 4
Ingredients:
½ lb. soaked or pickled kosari, rinsed and sliced lengthwise into 2-inch pieces
1 bunch spinach, washed and drained
½ cup dried doraji (rehydrating instructions), sliced lengthwise into thin strips
1 clove garlic, minced
2 tsp. soy sauce
2 tsp. sesame oil
½ tbsp. white sugar
1 tsp. vegetable oil
Salt (to taste)
Put a small pot of water over high heat to boil. When boiling, add spinach and cook for 1 minute.
Drain and rinse in cold water. Allow spinach to drain again, then squeeze gently to remove excess water.
Place in a bowl and combine with 1 tsp. soy sauce, 1 tsp. sesame oil, minced garlic and a pinch of salt. Set aside.
Heat vegetable oil in a sauté pan and add the sliced kosari and doraji.
Add sugar and 1 tsp. soy sauce and cook for 2 minutes, stirring often.
Remove from heat, add 1 tsp. sesame oil and stir to combine.
Serve as accompaniment to main dishes or rice.
Glossary of Korean ingredients:
Kosari: fernbrake: Bracken fiddlehead, which has a chewy texture and vegetal flavor
Doraji: Bellflower root, known for its firm, fibrous texture and distinctive bitter taste