Municipal Unions Rally Against Bloomberg, Without Unity on Next Mayor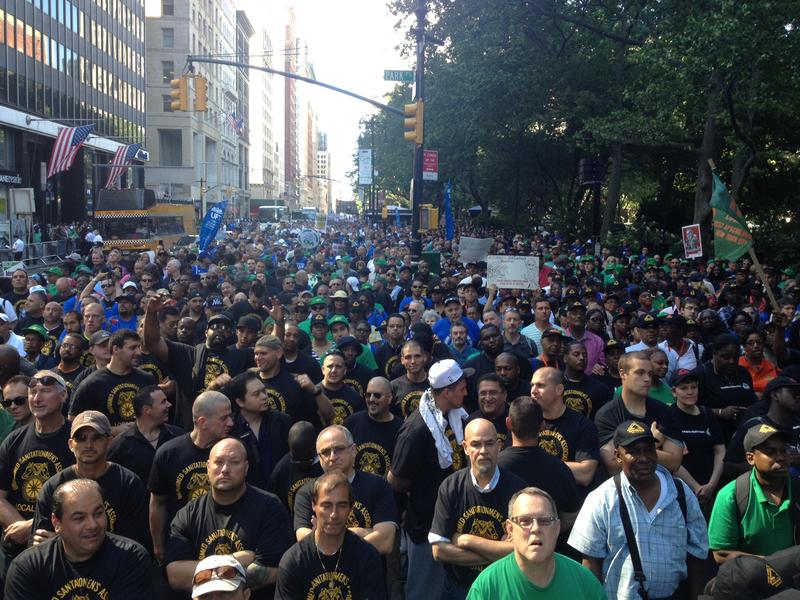 Thousands of city workers crowded the sidewalks around City Hall at a rally on Wednesday and blasted their problems with the current mayor, Michael Bloomberg, and they unequivocally declared that they see the next mayoral election as a chance to reject the status quo.
"This is the end of the Bloomberg administration. That's the good news," Steven Cassidy, president of the Uniformed Firefighters Association said to cheers. "Do we deserve a raise? You're damn right we do."
All the major city contracts are expired. Some have been for years. That leaves a potentially big budget hole for the next mayor. The independent budget office says retroactive pay hikes could cost the city more than 5 billion dollars.

This rally was designed as a show of force leading up to those fights, and to show the muscle of labor as the mayoral election heats up.
But labor as a whole is not united in the Democratic mayoral primary. CWA 1180 has lined up behind Comptroller John Liu. So have District 37's municipal workers. The big health care union, SEIU 1199, is backing Public Advocate Bill de Blasio.

Council Speaker Christine Quinn has retail workers, and Bill Thompson got the endorsement last week of a coalition of police and sanitation workers.

But a few big prizes remain, including the teachers union. Members are scheduled to vote on their endorsement next week.