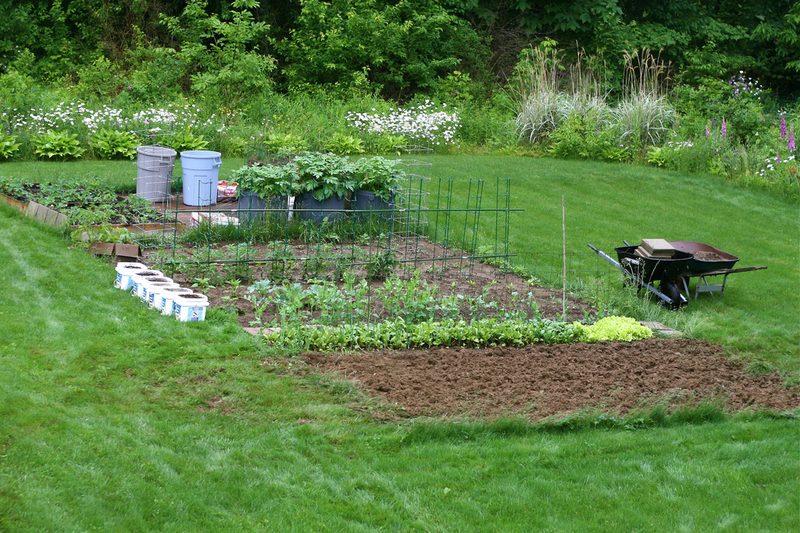 Amy Stewart, author of The Drunken Botanist: The Plants that Create the World's Great Drinks, talks about plants that have been used for spirits and offers gardening advice, along with cocktail recipes. 
→ EVENT: Amy Stewart reads from The Drunken Botanist tonight at 7PM at WORD bookstore in Greenpoint.
We're searching for the official "Brian Lehrer Show" summer cocktail! Do you have a favorite drink that fits the "drunken botanist" model -- using herbs, vegetables, or fruit? Post your recipe below, or call 212-433-9692 with your favorite. Then, Joel Lee Kulp owner of Williamsburg bar The Richardson will look at your nominations and craft a cocktail to serve at his bar.
---
Amy Stewart's Favorite Cocktail Recipes from The Drunken Botanist

The Mamani Gin & Tonic
Jalapenos and tomatoes, two South American natives, pay tribute to Manuel Incra Mamani, the man who lost everything to bring quinine to the rest of the world.
1 ½ ounces gin (try Aviation or Hendrick's)
1 jalapeno (or, if you prefer, a milder pepper), seeded, cored, and sliced
2 to 3 sprigs fresh cilantro or basil
1 cucumber (1 chunk and 1 swizzle-stick-shape slice needed)
High-quality tonic (look for a brand without high-fructose corn syrup, like Fever-Tree or Q Tonic)
3 red or orange cherry tomatoes
In a cocktail shaker, muddle the gin with 2 slices of the jalapeno, 1 sprig of cilantro, and the chunk of cucumber. Fill a highball glass with ice; layer in 1 or 2 slices of jalapeno, a sprig of cilantro, and the slice of cucumber. Strain the gin and pour over ice. Fill the glass with tonic water; garnish with cherry tomatoes on a pick.
---
Sloe Gin Fizz
2 ounces sloe gin
½ ounce lemon juice (the juice of roughly half a lemon)
1 teaspoon simple syrup or sugar
1 fresh egg white
Club soda
Pour all the ingredients except club soda into a cocktail shaker without ice. Shake vigorously for at least 15 seconds. (This "dry shake" helps the egg white get frothy in the shaker; you can skip it if you'd rather not include egg whites.) Then add ice and shake for at least 10 to 15 seconds more. Pour into a highball glass filled with ice and top with club soda. Some people replace half the sloe gin with dry gin to make it less sweet, but try it this way first – you'll be surprised by how refreshingly tart it is.
---
Pimm's Cup
1 part Pimm's No. 1
3 parts lemonade
Sliced cucumbers, oranges, and strawberries
Spearmint leaves
Borage blossoms or leaves (optional)
Fill a pitcher or glass with ice and add all the ingredients. Stir well. Borage leaves and blossoms are a traditional garnish but not always easy to find unless you grow them yourself.
---
Mai Tai
1 ½ ounces dark rum (some recipes mix dark and light rum)
½ ounce lime juice
½ ounce curacao or another orange liqueur
Dash of simple syrup
Dash of orgeat syrup
Maraschino cherry
Wedge of pineapple
Shake all the liquid ingredients and strain. Serve over crushed ice in a goblet or highball glass. Garnish with the cherry and a pineapple wedge. If you have ever been tempted to put a paper umbrella in a glass, this would be the time. 
From the book The Drunken Botanist. Copyright (c) 2013 by Amy Stewart. Reprinted by permission of Algonquin Books, Chapel Hill, NC. All rights reserved.