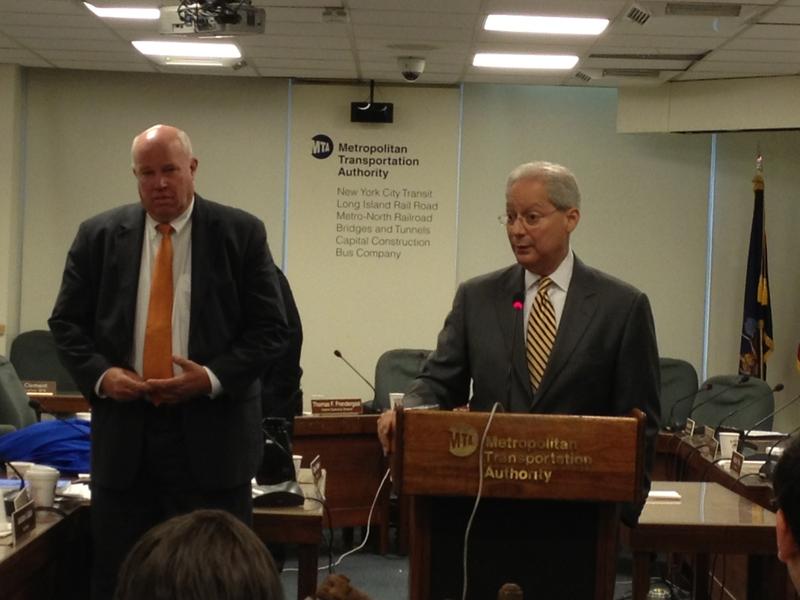 As New York's legislative session draws to a close, there's one piece of unfinished business bugging transit watchers: the nagging lack of a confirmation hearing for the new head of Metropolitan Transportation Authority. But that could be changing.
Sources in the New York Senate confirm that nominee Tom Prendergast will be heading to Albany Wednesday to meet with Senator Charles Fuschillo (R-Merrick), the head of the Senate Transportation Committee.
When Governor Cuomo named Prendergast to be the next chairman and CEO of New York's MTA, observers thought he was a shoo-in for confirmation. Prendergast knows the lay of the land (he's been at the agency since 1982), is well-liked, and would provide continuity to an agency that has seen its two previous heads resign after relatively short tenures.
Not to mention the fact that New York is currently engaged in spending billions of dollars on repairing its Sandy-battered transit system.
Two months after Cuomo tapped Prendergast, the Senate -- which must officially approve the MTA head -- has yet to schedule a confirmation hearing. But Wednesday's meeting could signal the process is moving to the Senate's front burner.
MTA interim head Fernando Ferrer vented about Albany's foot dragging last week to reporters. "Why this has not been scheduled for a advise and consent confirmation hearing is beyond me," he said after the agency's June board meeting. "We need firm and stable leadership...this arrangement can't continue much longer."
There's some added pressure: barring an extension, New York's legislative session is scheduled to end on June 20th.