Mayor Details Climate Plan, Including New Neighborhood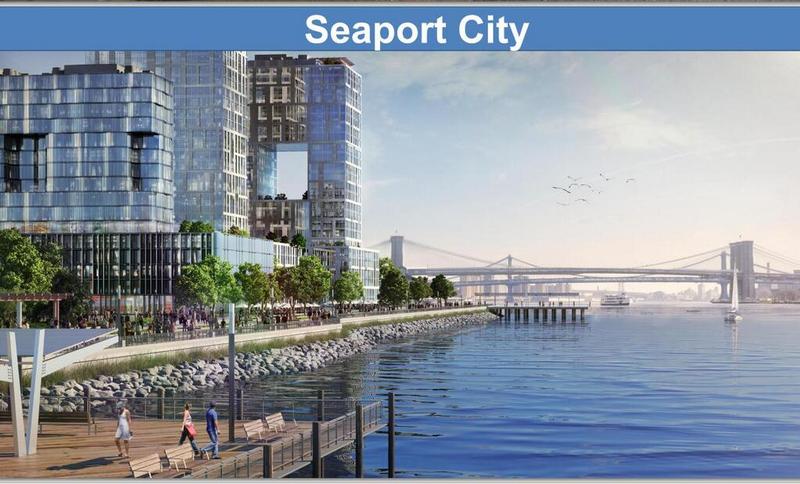 Mayor Michael Bloomberg is recommending that the city look into creating a new neighborhood along the East River shoreline as part of his  wide-ranging plan to get the city to prepare for climate change.
The mayor revealed the plan for "Seaport City" on Tuesday and recommended using Battery Park City as a model.
"It's an ambitious idea, yes, but so was Battery Park City," Bloomberg said of his Seaport City idea. "And we believe it's an idea that deserves careful attention and further study, which we will start immediately, and it will be up to our successor to continue the work."
The $20 billion proposal is part of a 430-page report that calls for the construction of levees and flood walls along parts of the East River, Staten Island and the Bronx. The mayor said the recommendations would help the city navigate weather crises from heat waves to hurricanes.
Part of the money could come from federal funds that have already been allocated, Bloomberg said, adding that he was hopeful that the federal government would foot the bill for many million more.
"We must protect [our waterfront]," Bloomberg said during the briefing, "not retreat from it." 
There are 250 specific recommendations. Some highlights are below; the full report is on www.nyc.gov. There's also a PDF of the Mayor's presentation.
Click above to hear an interview with WNYC's Matthew Schuerman about the address at the Brooklyn Navy Yard and a report from WNYC's Anna Sale on whether the City's next mayor will follow through.
(Rendering shows Coney Island Creek wetlands and tidal barrier proposed by Mayor Michael Bloomberg. Courtesy of nyc.gov)
NYC and Climate Change
— Sea levels could rise at a faster rate than forecast just four years ago – potentially by more than 2.5 feet by the 2050s. 

— By the 2050s, the city could have three times as many days at or above 90 degrees – leading to heat waves that threaten public health and the power system, among other infrastructure systems. 

— New York City's 520-mile coastline is longer than those of Miami, Boston, Los Angeles and San Francisco combined.
Plans to Protect the City
The Mayor is recommending installing protective infrastructure as well as other measures including:

— Studying the possibility of constructing "Seaport City," a levee that would both protect much of the East River shoreline and create a new area for residential and commercial development, similar to Battery Park City.

— Installing adaptable floodwalls in Hunts Point, East Harlem, the Lower East Side and other neighborhoods to reduce the risk of flooding during storm surges.

— Constructing a levee and floodwall system for Staten Island.

— Diversifying energy sources to increase the flexibility of the grid.

— Installing storm surge barrier at Newtown Creek and studying the possibility of installing surge barriers at the mouth of Jamaica Bay to protect Gerritsen Beach, Howard Beach, and other communities.

— Requiring utilities to update systems to address climate risks.

— Installing dune systems in Staten Island and the Rockaways to protect those areas from future storms.

— Installing bulkheads throughout New York City, from the Rockaways to Greenpoint to West Midtown.
(Rendering shows Newtown Creek storm surge barrier outlined in Mayor Michael Bloomberg's proposal. Courtesy of nyc.gov)
Recommendations also include designating funding for building owners who complete flood resistance measures; updating zoning and construction codes; retrofitting public housing; and improving the design of new hospitals. Bloomberg also suggested a scheme to help reduce the burden of flood insurance and called for economic redevelopment of areas flooded by Sandy.
The mayor said today that the plans were complicated and would take years to implement. Whether the plans come to fruition at all is likely in the hands of the next mayor.
"It's up to you to hold the next administration accountable for getting it done," he said.
It's not clear how much of the mayor's plan his successor will embrace, though mayoral candidates have routinely endorsed many of its ideas, including more dune construction along beaches, surge barriers in the water and more aid for homeowners to cover flood insurance.
The price tag for Bloomberg's plan is similar to what Council Speaker Christine Quinn called for in a speech immediately after Sandy. Her $20 billion plan included a possible seawall across New York Harbor and underground utility lines in vulnerable neighborhoods – an expense that Bloomberg questioned at the time.
Click above to hear an interview with WNYC's Matthew Schuerman about the address at the Brooklyn Navy Yard and a report from WNYC's Anna Sale on whether the City's next mayor will follow through.