The Takeaway
Race and College Admissions: Desegregation and Affirmative Action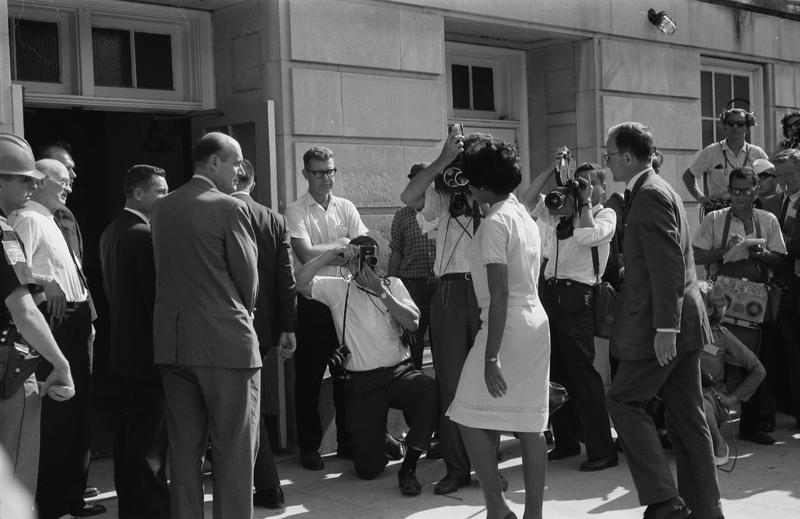 In the next few weeks, the Supreme Court will determine the fate of affirmative action in college admissions, as the justices will deliver their opinion in Fisher v. University of Texas. Most Americans think of affirmative action as a post-Civil Rights Era phenomenon, but race has long played a role in college admissions.
Fifty years ago today, Alabama Governor George Wallace made his final stand for segregation at the University of Alabama. With the National Guard at the door, Governor Wallace proclaimed, "The unwelcome, unwanted, unwarranted and force-induced intrusion upon the campus of the University of Alabama -- Today the might of the central government offers frightful example of the oppression of the rights, privileges and sovereignty of this state." 
Governor Wallace then stepped aside and finally allowed James Hood and Vivian Malone Jones to enroll at the state university.
That evening, in a landmark speech, President Kennedy explained his decision to send National Guard troops to forcibly desegregate the university.
"Following a series of threats and defiant statements, the presence of Alabama National Guardsmen was required on the University of Alabama to carry out the final and unequivocal order of the United States District Court," President Kennedy told the American people. "That order called for the admission of two clearly qualified, young Alabama residents who happen to have been born Negro."
The President called on Congress to pass comprehensive civil rights legislation. "I shall ask the Congress of the United States to act, to make a commitment it has not fully made in this century to the proposition that race has no place in American life or law." He focused specifically on education, stating that, "Too many Negro children entering segregated grade schools at the time of the Supreme Court's decision 9 years ago will enter segregated high schools this fall, having suffered a loss which can never be restored."
Arthur Dunning enrolled at the University of Alabama in 1966, just three years after James Hood and Vivian Malone. As one of the very few African-American students on campus, Dunning encountered intense racism, but still helped desegregate the football team. Dunning eventually earned his PhD and now teaches at the university.