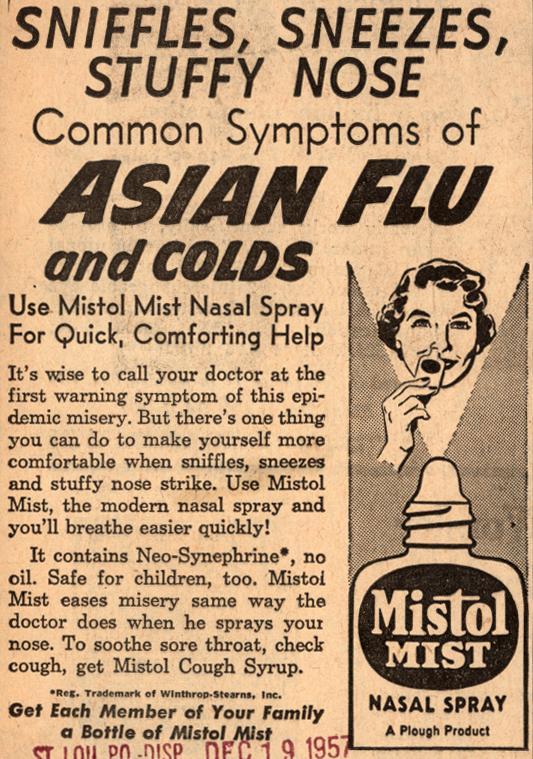 Beginning in February 1957, a new influenza strain virus (known to virologists as H2N2) emerged in China.  Throughout April, May, and June, it spread steadily and rapidly across Asian and Middle Eastern countries.  There was one question in everyone's minds: Would the new virus behave like the feared 1918 virus, which had caused tens of millions of deaths? Or would it behave like the ordinary influenza strains with which physicians were familiar? This November 1957 conference, organized by the New York Academy of Medicine and broadcast by WNYC, attempted to provide some answers.
In March 1957, a strain of the new influenza virus had been obtained at the Walter Reed Medical Research Center.  Analyses confirmed that this was indeed a new strain, different from the Type A strains that had been prevalent since 1918, a period of nearly 40 years.  Vaccine manufacturers went into emergency operations to adapt the virus for production of a vaccine, and worldwide surveillance went into high gear.
In July and August, outbreaks of the new strain erupted in U.S. naval ships and military camps on both the East and West Coasts; one notable outbreak was among 50 exchange students aboard the ship Arosa Sky (later Bianca C, the "Titanic of the Caribbean"), which docked in New York harbor August 12. Soon there were reports of epidemics in summer vacation camps and college meetings —however, the cases were generally mild, and few cases occurred among the general population.
The fact that the summer cases were mild was somewhat reassuring, but few could ignore that there were some disturbing similarities to the great 1918 pandemic. One parallel (as Dr. George Hirst points out in this recording) was that the 1918 epidemic had been the result of an abrupt change in the strain of the virus comparable to that being witnessed in 1957; likewise, the early spring and summer outbreaks in 1918 had been geographically scattered, mild, and with few deaths, but by autumn the number of deaths had ballooned to devastating proportions¹.
How would the new virus behave when schools opened in the autumn of 1957?  Speculation ranged widely, but as Dr. Morris Greenberg recalls here, "the thing came down with a bang."  Outbreaks developed rapidly beginning in early to mid-September, and within a month, epidemic influenza had spread across the country.  School absenteeism rose abruptly, reaching levels of 30% to 50% in some schools.  Hospitals and out-patient clinics were filled to over-flowing; there were so many calls for ambulances that "police was unable to keep up."  It is reasonable to speculate that planning for this November conference probably started at this time:  the idea was to provide a comprehensive overview of the status of the epidemic as preparation to laying out plans for the coming months, especially the usual January to April influenza season. 
However, after mid-October the numbers of cases occurring weekly began to fall as rapidly as they had risen. Moreover, much to everyone's relief, the cases had been generally mild. Indeed, by the time of the conference the schools were all back in session; deaths directly due to influenza had been no more than usually occurred; and the vaccine was beginning to be delivered (although far too little and too late to have any bearing on the course of the epidemic).
The clinicians and scientists at this meeting were grappling with many unknowns at the time, and their relief over the disease's downward trend at the time is palpable, if cautious. Issues ranging from clinical recognition of the disease to vaccine efficacy are discussed. Dr. Harry M. Rose perhaps summarizes it best, declaring that "one of the astonishing things indeed is that the epidemic proportions were not even larger," while later advising to "hope and pray" that the number of incurable cases does not grow. Although there is much advice given on clinical treatment and immunization guidelines, no one sounds snug or sure-footed —these are professionals who clearly have experienced a few rough weeks.
There is, however, a puzzling postscript to the expectations at the November meeting.  Between January and April  1958, the other usual seasonal time for influenza, there was (despite Dr. Greenberg's predictions here) a nationwide surge in flu-related  deaths that almost equaled the autumn outbreak. However, during the January to April period, no community-wide epidemics were reported; industrial absenteeism was normal; and no schools closed.  A reasonable explanation for this epidemiological curiosity has never been provided².
¹It is estimated that the pandemic of 1957-58 eventually killed at least 1 million people worldwide.
²In another surprising turn of events, in 2004 and 2005 an error resulted in the worldwide distribution of test kits of the 1957 H2N2 virus, now officially classified by the CDC as Biosafety Level 3, or "potentially lethal." It is believed all samples have been destroyed.