TN MOVING STORIES: Transpo News Links from Around the Web
Monday, June 10, 2013 - 07:55 AM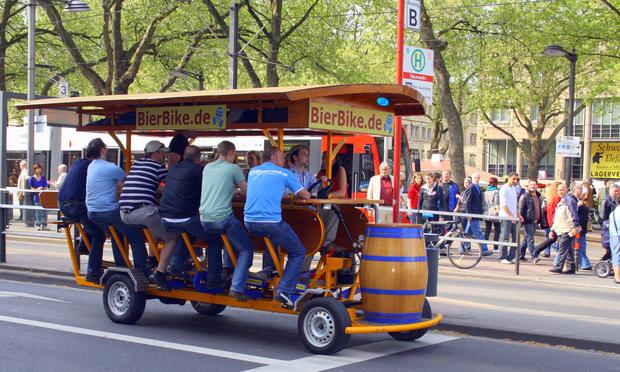 (Harold R Cologne/flickr)
TN MOVING STORIES is available by email. Signup here. 
TOP STORIES ON TN:
Wall Street Journal Editor Has Even More to Say on Bike Share (link)
Bay Area Traffic Rises with Economy (link)
LINKS FROM ELSEWHERE:
The U.S. and China agreed to talk about reducing hydrofluorocarbons, which are "mostly used in automobile air conditioners, something the car cultures of the U.S. and now China have in droves. HFC's are also hundreds to thousands times more potent greenhouse gases than carbon dioxide." (Marketplace)
A project to build a rail line at the Port of Los Angeles is in the crosshairs of environmentalists. (NPR)
The case against pedestrianizing Istanbul's main square: "Mr. Erdogan's plan for removing buses and taxis and installing a single, vast pedestrian zone at Taksim, stripped of its gritty and unpredictable energy, turned into a polite shopping area, will sap the square of its pedestrian vitality, not make it pedestrian-friendlier." (New York Times)
With a gross salary of $333,000, the highest-paid BART employee was someone who actually didn't work for the agency in 2012: it was Dorothy Dugger, the agency's former general manager who resigned under pressure more than two years ago. (Bay Area News Group)
Attacks on Boston bus drivers are soaring this year. (WBUR)
Biking while drunk: not a good idea, but not illegal in Minnesota. How one bike pub crawl is trying to rein it in: "We made an announcement at the beginning of the event that this was a max one drink per stop," said one organizer. (Star Tribune)
D.C.'s Capital Bikeshare is a real estate lure: "Craigslist showed 72 active housing listings touting proximity to bikeshare on Friday." (Washington Examiner)
New York City's bike share must raise more money before it can expand. In the meantime, "it's passing over neighborhoods where nearly 90% of the city population lives." (Wall Street Journal)
A dozen male train drivers in Sweden have circumvented a ban on shorts by wearing skirts to work. (BBC)
Kate Hinds covers transportation for WNYC News.