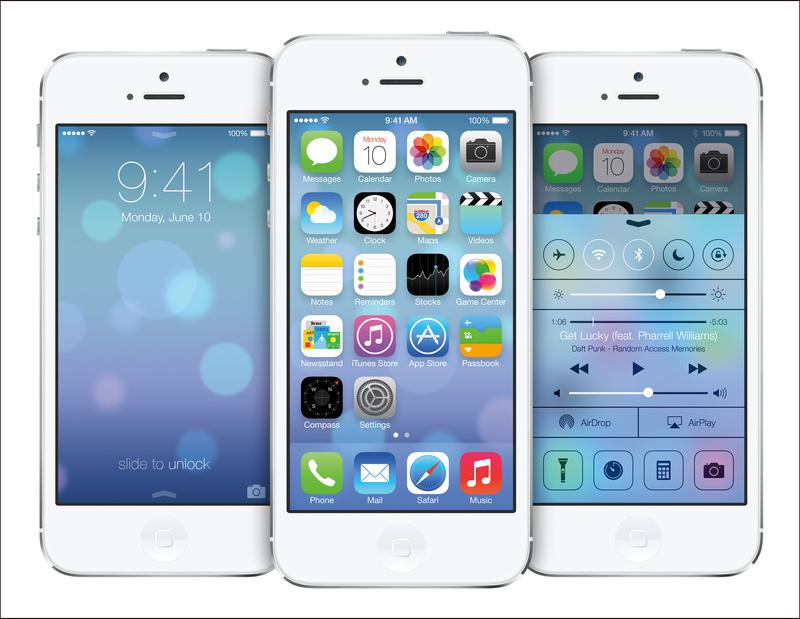 Design seldom makes front-page news, but Apple's Worldwide Developer Conference is always a big story. The company, which once stood head and shoulders above the rest for its attention to both hardware and software design, is increasingly challenged by Google's Android and by Microsoft. Now it seems to be playing catch-up to companies it once derided. "Can't innovate? My ass!," one executive lashed out.
Apple has just unveiled a new iOS, the software that powers its mobile devices, for a fall release. In a major shift of the company's aesthetic, the look is "flattened." "There was a fake three-dimensional quality to everything that really started in 1984," Bonnie Siegler tells Kurt Andersen. Siegler runs a prominent design firm, and is chair of this year's most important graphic design conference. "They got fancier and fancier until everything on a Macintosh was chrome-looking, faux felt, faux wood, faux leather." (The design term for this is skeuomorphism; read up on it here.) It's a training-wheels concept that was stuck in the 20th century and jumped the shark when the company last year introduced a much-derided podcast app styled like a reel-to-reel recorder. One of Kurt's daughters "literally didn't know what that was."
"It's evolutionary," Siegler says. "Survival of the fittest of the new characteristics. Apple invented the thing" — the consumer-friendly user interface of smartphones — "and the other guys caught up and differentiated. This guy made a bigger screen, this guy made a different operating system. Apple looked around, took the things that have been proven to work best, and incorporated them."
The "flatter," more classically modernist look is more similar to what Windows has been doing, but Siegler sees Apple's attention to detail still in play. She admires a translucency, like a shower curtain, used to communicate different layers of operation. Kurt wonders if design boss Jonny Ive, who is now in the spotlight, had the design shift planned but couldn't implement it during Steve Jobs' life. "It has to be a difficult moment for him, this being the first huge announcement since Jobs died. At his level there must be things he's dying to do and I hope he gets to do them now." Siegler thinks the company's focus on personality is a positive aspect. "I always thought it made Apple more compelling. There is a man, a human being, behind all these ideas and this vision. There isn't that at any of the other companies. Who's the Samsung guy?"
→ What do you think — had Apple fallen behind the curve in terms of design? Have they caught up now? Tell us in a comment below.