Hospitals Treating Immigrants Here Illegally Worry About Upcoming Cuts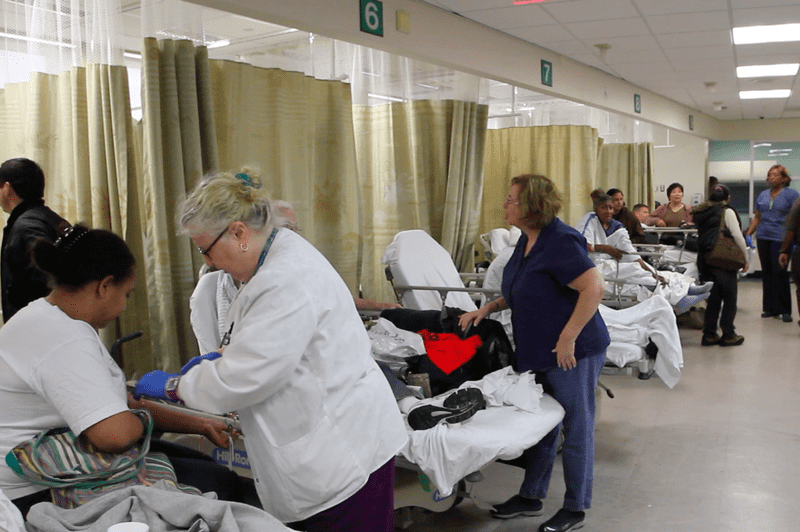 On a recent day Dora was at home in Brooklyn taking care her of her 3-year-old boy Jean when she started having problems breathing and feeling chest pain. As it got worse, Dora, 29, called her husband to tell him she was going to the emergency room at the Maimonides Medical Center in Borough Park.
"My heart was hurting and pounding hard," she said, lying in a bed at the emergency room.
 
By the time Dora got to the hospital her heart was beating 200 times per minute. 60 to 100 is normal. But even while in pain, a practical matter weighed heavily on her mind.

"The bill is coming," she said. "I'm going to have to pay a lot of money."

Dora doesn't have medical insurance. She entered the country illegally from El Salvador seven years ago, leaving two small children behind. She cleaned homes here to provide for them. As a medical technician came to do a chest X-ray, Dora said she was worried not only about what the exams would show, but also about how much they would cost.

Outside the exam room her husband, Cornelio, a cab driver, was concerned about the same thing. Maimonides allowed WNYC to interview him and Dora under condition we don't use their last name.

"The bill in the hospital is expensive," Cornelio said. "She don't have any insurance. I don't have any insurance [sic]."

Even though Dora and Cornelio didn't know it yet, there was a good chance the costs of this hospital visit will be covered. Immigrants here illegally who don't have medical insurance are eligible for what's called emergency Medicaid. But that doesn't cover follow-up and non-emergency care. Maimonides steps in to provide these services. Bob Naldi, the chief financial officer, says it's not easy.

"Our budget is pretty tight," Naldi said. "We break even. We can't have any fluctuations."

He said they use something called disproportionate share hospital payments, or DSH, to partly cover these costs. The federal government gives DSH payments to safety net hospitals like Maimonides because they treat uninsured people, including immigrants who are here illegally, and poor patients.

But as the Affordable Care Act is implemented, DSH payments are going to shrink significantly. That's because the government expects the number of insured patients to increase by as much as 30 million. But financial officer Naldi says hospitals like Maimonides can't rely on that.

"We can't count on seeing a new increase in the insured patients for the uninsured ranks," he said. "If it happens, fine."

If it doesn't happen, Maimonides has to prepare for the DSH cut. Patients like Dora are still going to come to the hospital. Even if immigration reform happens and they get provisional legal status, they won't be eligible to buy into the subsidized health care exchanges for at least 10 years.

Leighton Ku, a professor of health policy at George Washington University, said a smaller percentage of immigrants who would get provisional legal status could get insurance through an employer or have enough money to purchase it themselves. But research shows many won't have those options.

"Most of them are still going to be left out," Ku said. "There's no denying the fact they will still have poor health experiences."
Additionally, under the immigration reform bill now being considered these immigrants would not be mandated like American citizens to have insurance. Ku does not think much will change in the next decade.  
"The situation for them is bad now," he said. "The situation will continue to be bad."

The DSH cuts are going to change the situation for Maimonides and other hospitals that are already feeling financial pressure. In five years, the $11 billion they now share will be cut by about half. Maimonides says it will probably have to cut costs but will try to continue to provide a safety net for those who seek health care.