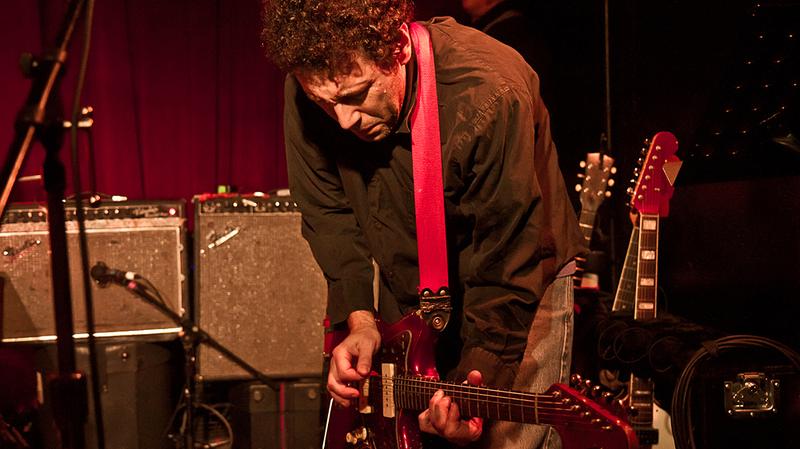 Yesterday, I heard the news that Maxwell's, the famed music club with international recognition in Hoboken N.J., is closing after July 31. The news struck me hard: I've been to Maxwell's more times than I can remember and so many of my best musical memories are wrapped up in that place. It was a lifeline to twentysomething me.
I lived an hour's drive from New York City in a seemingly ultra-backward suburban New Jersey town. It became a destination as comfortable as going to a friend's house for a few beers and some tunes. Except the music was live and more eclectic than I'd ever hoped for. It was as if my college radio station had come to life. In the early 1990s, I lived within walking distance of the club, making it a quicker trip to see bands.  
It was a club I never felt out of place in, with good food and beer, a jukebox filled with the best indies and oldies rockin' the front bar. I met one of my best friends there, and recorded my first radio interview there with R.E.M.'s Peter Buck and Mike Mills after one of the band's early live shows. I even tried out to be a fill-in soundperson -- which I thankfully decided wasn't for me -- but I ended up engineering many live broadcasts there for my other radio station, WFMU. 
Here's a partial list of some of my favorite shows and musicians I remember seeing at Maxwell's:
The Mekons: The best New Year's Eve I can remember, in 1992; Singer Sally Timms was chewing gum and wearing a sparkly tiara, the band rocking our brains out, and so hot in there that our collective sweat dripped off the ceiling.
Richard Thompson: This night in the early '90s was the first time I saw him play solo acoustic, squeezing into a spot near the front of the tiny stage. And his opening act, the late Vic Chesnutt, was a totally unexpected delight.
American Music Club: I saw Mark Eitzel fronting American Music Club many times (and many times drunk out of his skull, but still superb). Guitarist Vudi once let me hold his custom-made guitar because I admired it.
Kevin Ayers: I dragged a date named Peter there so I could record Ayers in a rare appearance in 1993, with Gary Lucas and David Thomas opening. (The date worked out: Peter's my husband now.)
The Fleshtones: At a show in the early '80s, with the band churning out surf-style garage rock, frontman Peter Zaremba singled me out of the audience, cradling my head and singing and testifying about having "a personal Fleshtones experience."
Robyn Hitchcock: I caught Hitchcock many occasions both solo and with a band, one night in 2005, Hitchcock surprised everyone by singing "Kung Fu Fighting" as he walked into the audience, with guitar in hand, getting the crowd to sing along.
And then there were countless amazing shows from the likes of The Pixies (as an opening act!), Throwing Muses, The Bongos, Tiny Lights, The Feelies, Yo La Tengo, Speed the Plough, R. Stevie Moore, Husker Du, Bob Mould, The Fall, Incredible Casuals, NRBQ, The Mommyheads, The dB's, Continental Drifters, The Bats, The A Bones, Hazil Adkins, Alex Chilton. So many others, too many forgotten.
I'll admit my patronage of the club diminished once I married and moved to Manhattan. Parking near the club became an impossibility. But I'd also fallen out of love with Hoboken in general as drinking fans, not music fans, seemed to be overtaking the town near the PATH station and spreading. Maxwell's had fallen on bad times in the '90s as well, and sold to some people who tried to turn it into a microbrew pub with an unimaginative booking policy. Todd Abramson, along with Sonic Youth's Steve Shelley and Dave Post of The Amazing Incredibles, eventually rescued the club, bringing it back to its former glory.
Unfortunately, all good things come to an end and the club owners feel it's time to close the club for good. As one of my friends put it, "It's like a death in the family." But I will always remember all the good times and great music.
So what's your "Maxwell's Moment"? Tell us your favorite concert memory or share a personal story about the rock club in the comments section below, on Twitter at @Soundcheck, or call us and leave a voicemail at 866-939-1612.
In addition to serving as Soundcheck's technical director, Irene Trudel has hosted shows on WFMU for nearly 27 years.