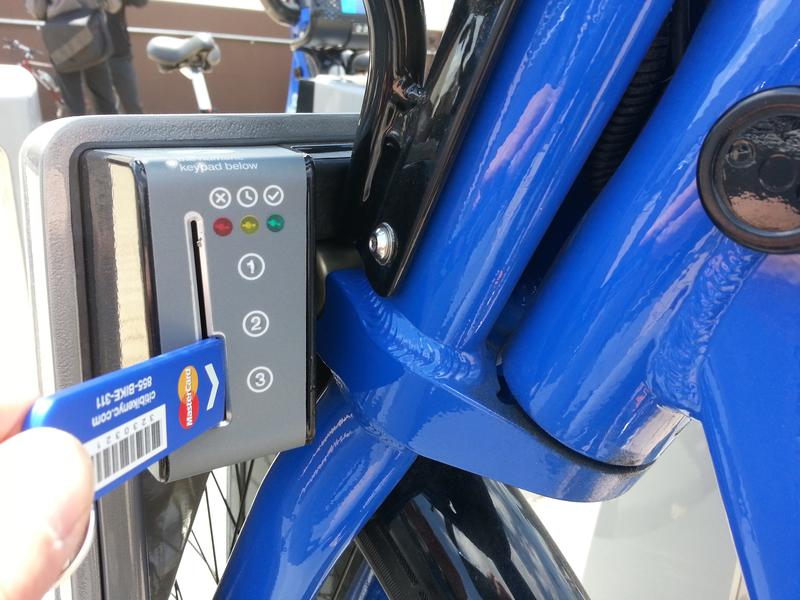 Four days into its operation, New York City's Citi Bike has more members than Capital Bikeshare, which has been in operation for two years, and until this week, was the largest bike sharing program in the country. That distinction now belongs to NYC. Despite software problems, protests, and glitches -- some of them well-publicized, Citi Bike's membership has been rising at a clip of about 2,000 members a day.
It hasn't been the smoothest of launches. The station map was down for much of the first day, the mobile phone app has been buggy, and news organizations have widely reported problems, especially around returning of bikes.
But not even a week into operations, according to its daily blog, Citi Bike has 23,749 members, at $95 a pop, plus tax.  That's compared to 21,200 for Capital Bikeshare. To be sure, Washington's system is much smaller -- there are 1,800 bikes and 200 stations, compared to 6,000 bikes and 330 stations in New York. And with 31,000 trips, each Citi Bike is getting used only about once a day, compared to about three times a day in Washington. 
The population of New York City is also about 13 times larger than that of Washington, D.C.
But Chris Holben, who directs Capital Bikeshare for the District Department of Transportation, is unimpressed.  "Do they have 4 million trips yet?" he quipped.
In NYC, there have been 31,000 trips for a total of 85,585 miles, the equivalent of three rides around the earth.
Also, Washington has 306,000 daily members.  As of now, New York has zero. Daily and weekly memberships don't start until Sunday.