Soundcheck
Bobby McFerrin: Reinvigorated Spirtuals And Americana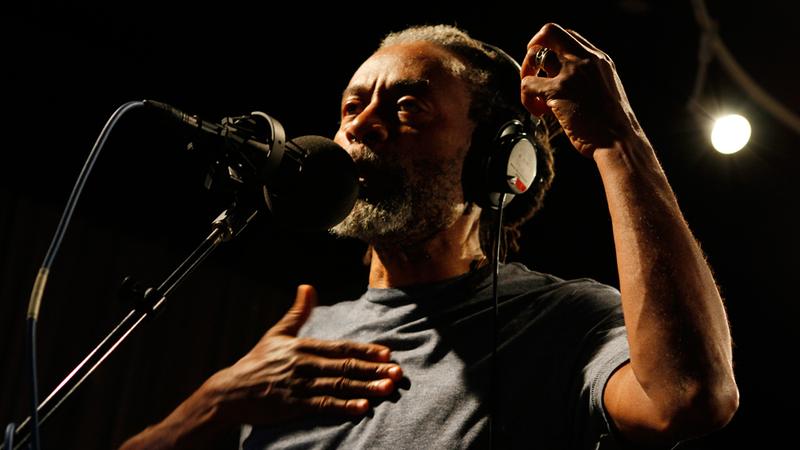 Best known for his solo performances, vocalist and conductor Bobby McFerrin returns to his musical roots in two ways for his latest album, Spirityouall. The record features an all-star jazz ensemble including Grammy Award-winning bassist Esperanza Spalding. But McFerrin also interprets -- in his own endlessly joyous style -- the Americana songs he grew up with. While well-known tunes like "Swing Low" and "Whole World" could easily feel stale, through McFerrin's ever-inventive musical prism, these songs feel reinvigorated and fresh.
 Set List:
"Every Time"
"Fix Me Jesus"
"Joshua"
Bobby McFerrin, on the heading in a different musical direction on spirityouall:
I wanted to put a band together that was acoustically based, and I wanted to do something that had a jazzy, folksy, bluegrassy kind of flavor to it. We mix it up a bit. We go south a few times on stage. We play around with pieces. We extend them, we elaborate on them, we shorten them, we quicken them, we change the pace, we change the key. It's like a live experiment.
On his father, Robert McFerrin, Sr., a groundbreaking musician:
To this day, he has the best baritone voice of anyone I've ever heard in my life. He was the first African American musician to sign a contract with the Metropolitan Opera, in 1955, I believe. And he was a great teacher. I learned a lot just observing him with students…. He didn't put up with any nonsense. If you came in completely unprepared, he just booted you out the door. He was very strict, strong, stern, yet kind. He had the perfect balance for a teacher.
On occasionally teaching improvisation himself at the Omega Institute:
Improv for me is simply motion. You start something and you just keep going. You might set a timer for a minute, five minutes, ten minutes, whatever. But you start and you keep going. That's the basis of improv for me. Harmony and theory and all that stuff, that comes later. The first part is just getting enough courage to forward ho — start, and don't stop. I teach that. 
Watch Bobby McFerrin's performance at the World Science Festival in 2009, hosted by Soundcheck's own John Schaefer.
For more photos, visit Soundcheck's Tumblr page.
Bobby McFerrin plays Central Park SummerStage on August 20.