Transportation Nation
Popularity of Morning Walks May Shape the Pedestrian Streetscape of Central Florida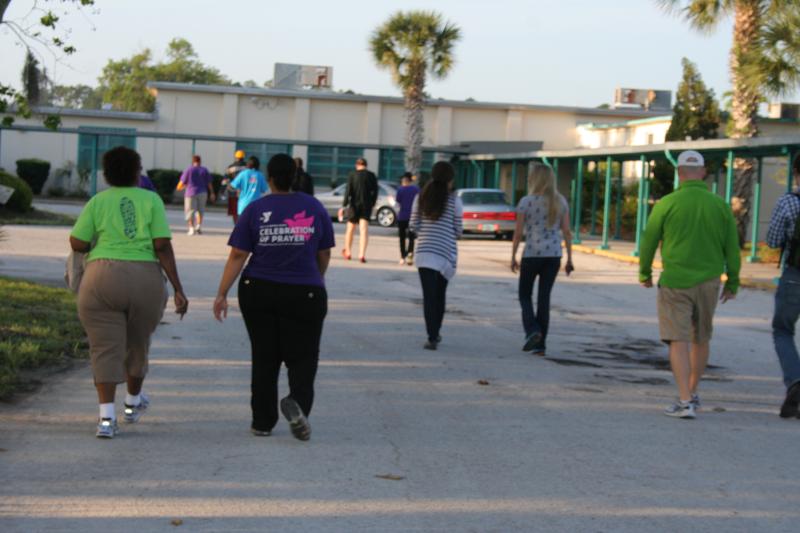 What started as a mayor's morning walk for a healthier staff and community is expanding into a renewed dialogue about pedestrians in Central Florida. 
In three small cities in the region, Maitland, Winter Park and Eatonville, city officials have initiated a series of morning walks. The walks are popular with residents trying to improve their health, like Sarah Williams.
"After seeing someone that was close to me have a stroke at the age of 46, it was an eye opener for me," said Williams, who is overweight, pre-diabetic, and struggles with high blood pressure.
When she heard about the morning walks last November, she decided to join in and walk with all three cities. In less than six months, she's lowered her blood pressure enough to go off one of her meds her blood glucose levels dropped by two points. "I didn't lose a lot of weight, but I went down two dress sizes," says Williams. 
The community walks were launched in 2011 by Eatonville Mayor Bruce Mount. He says he was moved to start his Walk and Talk with the Mayor program because he was signing so many funeral resolutions for his small town.
Eatonville has the highest rate of diabetes, obesity and hypertension with 24 percent of residents diagnosed with diabetes. That puts Eatonville's population at an increased risk for a host of health problems, including heart disease and stroke. But Eatonville's walkers are getting results. The Mayor himself has lost 40 pounds. "I never thought walking could have that kind of result, just casually walking, walking at your own pace," says Mount.
The mayor's walking program proved so successful, it became the pilot for nearby Winter Park, Maitland and the Healthy Central Florida initiative that all three cities are now part of.
Organized walks, or any popular exercise program, are fine for the participants, but to make walking a healthy habit of a community at large, that means the pedestrian experience needs to be appealing to a wider public.
A group of Rollins College graduate students in urban planning, along with adjunct professor Bob Hahn, are looking for ways to rebuild Eatonville as a healthy community.
"Eatonville does in fact offer tremendous [connectivity]in that regard," said Hahn, "of which, being walkable, is one component, the pedestrian, the bicycle… but also its potential connection to [Central Florida's commuter rail system] SunRail, to transit to Lynx, that's an important connection, so it has to me a very multi-modal appeal." He stresses local governments need to look at the big picture, not just morning walks. "And when I say the big picture, I mean they need to look at the multi-modal connectivity that a city like Eatonville offers."
Hahn's students are examining Eatonville's need for better sidewalks and brighter, more appealing street lights and access to transit. Hahn says cities also need gathering spots that help to draw pedestrians and cyclists and create a sense of place. Inspired in part by the success of the mayor's walking initiative, Eatonville is looking at ways to incorporate the Rollins students' suggestions.
In the meantime, the walks are also bearing fruit on other fronts, as Sarah Williams found out. "You get to know people, and just meeting different people and if you have a city commissioner walking with you, you get to learn a lot of different things about the city," says Williams.
The cities' walks are on different days, making it easy for devotees like Sarah to hit all three.