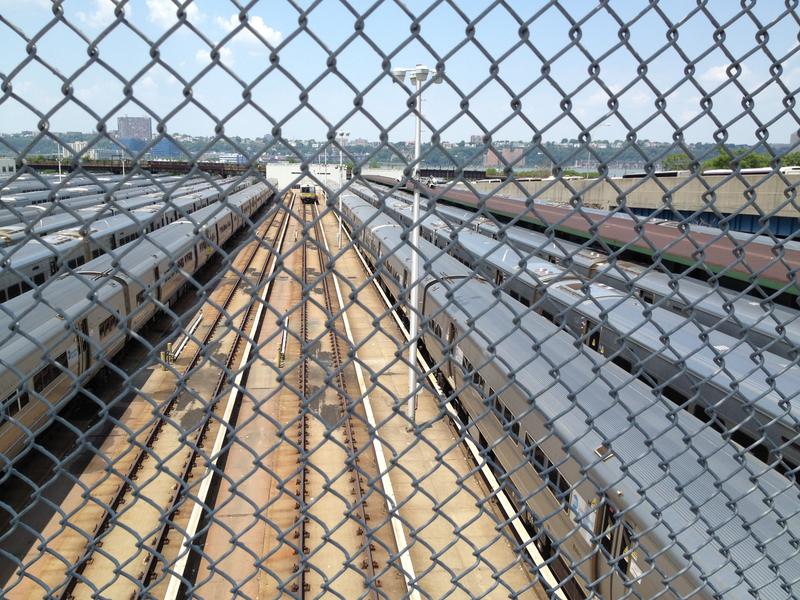 Since the ARC NJ Transit tunnel under the Hudson River was killed over two years ago, planners have been lighting a feeble flame under the hope of a second "Gateway" tunnel, for Amtrak trains.  Now, that flame is getting some serious fuel, in the form of $185 million cash infusion from post-Sandy aid.
The $185 million will be used to build an 800-foot concrete encasement between 10th and 11th Avenues to preserve the tunnel right-of-way while Manhattan's massive Hudson Yards development project rises.  A full tunnel is decades away.
The funds come from the Sandy package, officials say, because the storm showed the vulnerability of Hudson crossings.
"The tunnels are over 100 years old, and they're decrepit," said Senator Charles Schumer (D-NY). "We can't exist without these tunnels and yet they're in bad shape. Oh, and by the way, they're totally overused."
U.S. DOT secretary Ray LaHood, Amtrak chair Tony Coscia, and Senator Charles Schumer (photo by Kate Hinds)
Schumer said Sandy highlighted a flaw in the region's transportation infrastructure: the need for new, flood-resistant trans-Hudson tunnels. "We all know what happened on October 30th," he said. "Sandy ravaged our infrastructure, including the tunnels that go under the Hudson River."
During Sandy, the existing Hudson River tunnels were flooded with 3.25 million gallons of brackish water, disrupting service on New Jersey Transit and Amtrak for days.
Schumer was joined at Thursday's funding announcement by the outgoing transportation secretary Ray LaHood, as well at Amtrak chairman Tony Coscia.
Ray LaHood said Schumer had been "tenacious" in getting his attention for transportation funding in New York. "I'm on his speed dial," LaHood said.
A rendering of the Gateway project (photo by Kate Hinds)
So far the Gateway project has only gotten bits of aid, mostly for studies and the kinds of preliminary funding that doesn't necessarily indicate a project will be built. ("We have $120 million in this year's budget that the president put in, and I'm protecting, to do the planning and engineering and design work for these tunnels right now, said Schumer.) Thursday's grant changes that equation.

A second tunnel -- known clumsily as the ARC, or Access to the Region's Core -- had been under construction, but NJ Governor Chris Christie pulled the plug on that in 2010, saying the project was headed for cost overruns that were too risky for New Jersey taxpayers.
"This is a substitute for the ARC tunnel," said Schumer, who added that he and NJ Senator Frank Lautenberg "felt very badly when it didn't go through. But because this is going to be much more just federal money -- not state money, not Port Authority money -- Governor Christie has been supportive of this proposal."
Another rendering of the project (photo by Kate Hinds)
The west side of New York has long been a regional rail bottleneck, and Gateway as planned would more than double trans-Hudson rail capacity -- as well as provide critical redundancy. But it could cost upwards of $13 billion, and so far that funding hasn't been identified. Nor is there a timetable for construction -- two questions that dogged the officials at Thursday's press conference.
"There are a lot of ifs," said Schumer. "Can we get $13 billion in two years? What if we get $3 billion?"
LaHood interjected "Lookit. There's no number right now. There's no number."

"Here's my goal," said Schumer -- only to be cut off again by LaHood. "The answer is there's no number right now!" said LaHood, sounding exasperated. "This is like building the interstate system. You build part of it, you get the money, then you build the next part. The answer is there's no number right now!"
"Once we get the box tunnel done, we will start scouring the federal government for dollars," said Schumer. "I'm optimistic we can do that. This is the kind of thing that has broad support."