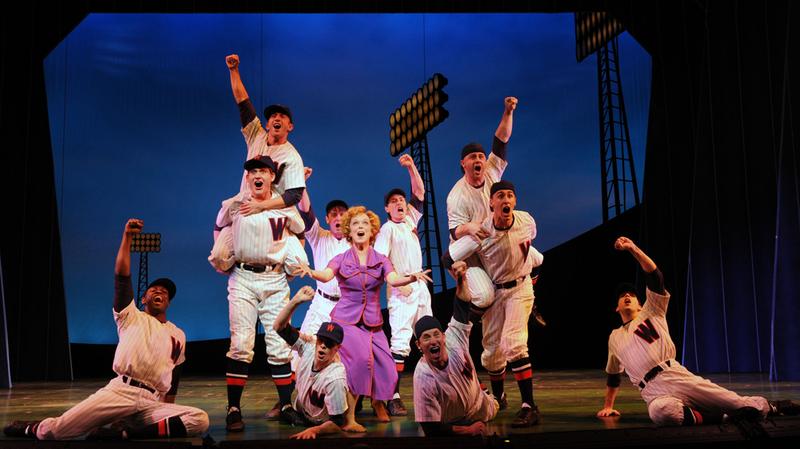 This summer I'm going to theater camp. No, I'm not spending two weeks in the Catskills that will culminate with a meta show-about-a-show at show-camp version of Babes In Arms. My next project is a musical so I've been immersing myself in the form.
A few weeks ago I saw The Last Five Years, Matilda, Pippin, and Kinky Boots (Matilda and Pippin get my imaginary Tony vote as Best Musical and Best Revival). This week my regimen includes seeing Passing Strange, Next To Normal, and Spring Awakening in archived versions at the New York Public Library, plus Once at the Jacobs.
All this theater-going has me thinking, naturally, about one particularly neglected sub-genre of theater: the sports musical.
There is of course a rich history of straight plays about sports including contemporary hits Take Me Out and Magic/Bird. But musicals about sports are few and far between. Besides the classic Damn Yankees (who could forget "You've Gotta Have Heart" or this), Broadway has been practically devoid of sports themes for decades. Next year Rocky arrives in New York, prompting some fun and creative ideas about other sports movies that could become sports musicals.
But what about a brand new original sports musical? Here's a sample of some sports musicals I'd pay to see (or, you know, write):
PHOENIX
Synopsis: A feel-good story of a confident, but low-key basketball player who comes out as lesbian in a confident, and low-key way. Finding herself in a "Typical American City," she goes about combatting homophobia in a confident, and (you guessed it) low-key manner, changing hearts and minds through a combination of basketball, song, and dance.
Featured Song: "Jump Hook, Lay-up, Shoot (By The Way I'm Gay)"
I was a Baylor bluechip recruit

Dominated the En See Double EH

Jump hook, lay-up, and shoot

And by the way I'm Gay

 

By the way I'm Gay

Oh By the way I'm Gay

But it only matters how great I play

It's no big deal

I'm just casual and real

Block, foul, steal (And by the way Oh I'm Gay)
-----
FAITH ON ICE
Synopsis: The hapless San Jose Sharks find themselves in a trade dispute with the equally hapless New York Jets over the services of Heisman Trophy winner Tim Tebow. Trouble is, where will they settle their differences? On the ice? On the field? What does Tebow want? Congress steps in to settle the dispute and hilarity ensues.
Featured Song: "Jesus, I'm Confused"
Dear Jesus I don't know what to do

Is my football career through?

Is San Jose my redemption or my Gethsemane nite?

Please Congressman Honda (D-CA), make everything right
-----
LA CAGE LE BRON
Synopsis: The true story of LeBron James' rise from impoverished but talented school-boy athlete to his fall as big-money anti-hero to his redemption as good-guy NBA legend to his ascension to saint-hood when he returns for a final season as a Cleveland Cavalieré. Told in the French Comic Style of Molieré.
Featured Song: "Une Prison Aux Attentes" (trans: "A Prison Of Expectations")
Everyone hates me

Je suis fatigué

So C'est la vie

Je vais prendre me talents á Miam-ay
-----
And finally, inspired by Soundcheck producer (and noted Royals Fan) Mike Katzif:
MANNYBMANNY
Synopsis: In which an aloof, husky, and dreadlocked baseball player gets himself into sticky situations ala Mr. Magoo.
Featured Song: "It's Hot Out Here (And Manny Don't Want To Be On The Bases)"
See the ball, hit the ball

That's all I'm paid to do

It doesn't matter, nothing matters

We lead them 8-2

I'm tired of being tired and

There are no monster chases

It's much too hot out here and

Manny don't want to be on the bases
Erin McKeown is a musician, writer, and producer. Her latest album is MANIFESTRA, out now on TVP Records. Follow her sports podcast " * " (@AsteriskPodcast) when it debuts in the summer of 2013.