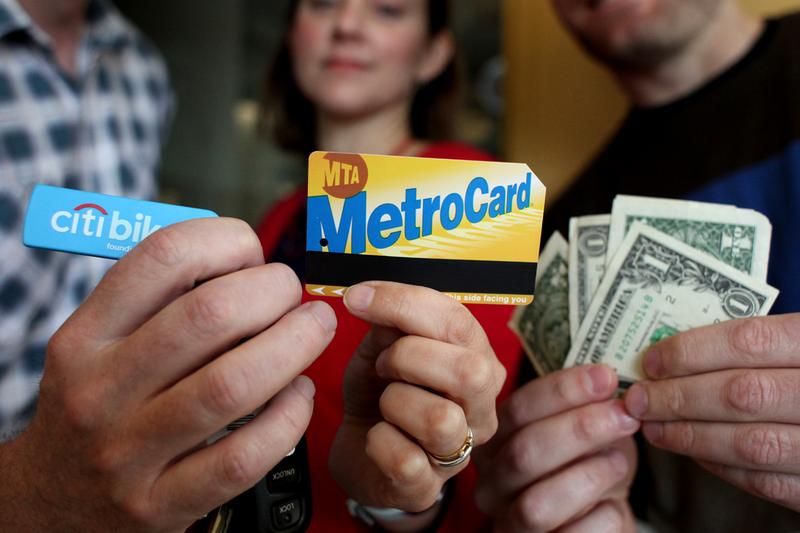 As part of the "first-ever thoroughly unscientific Brian Lehrer/WNYC/Transportation Nation Road Rally," three WNYC staffers -- Jody Avirgan, Kate Hinds, and Jim O'Grady, were taken to a corner on the Lower East Side and assigned separate modes of transportation: bike share, taxi, and subway. The challenge: be the first to make his/her way back to the station, located in Manhattan's far west Soho neighborhood. 
The trio chatted with Brian at 11:06, explained their strategies, and took off at 11:14. First prize: walking live into Studio 2 to gloat, er, chat with Brian.  You would not believe how shocked Jody was when he walked in, Rocky-style, only to learn Jim was already on air. 
These are their stories.
Jim O'Grady, bike share: first place. Arrival time at WNYC: 11:29
The trip using bike share was pretty smooth. Using the Citi Bike phone app, I found a bike share station at the corner of Grand and Clinton Streets, a block from our starting point. It was large but held only two bikes. That raises one of challenges of the program: maintaining a balance of bikes and open docks at stations. That's especially important after the morning rush, when, generally speaking, large numbers of people have moved from residential to business districts.
The first, sparsely populated bike station I used was in a part of Chinatown with a lot of apartment buildings. And the station I used on arrival, in a business district at the corner of Spring Street and 6th Avenue, was jammed with bikes and had only one open dock.
That could've been a problem. If not for that opening, I would've had to go back to the Citi Bike app to find a nearby docking station and then traveled there to use it, wasting minutes. (I later figured out that the app has a color-coded system to display the fullness or emptiness of the stations--although the difference between the app's light and dark blues is hard to discern on the screen of a phone.)
Clearly, one of DOT's tasks will be to rebalance the stations by trucking some bikes back to their points of origin.  
And another thing. It's hard to wrestle a 43-pound bike from its dock, even after unlocking it. You have to lift the rear wheel off the ground before backing the bike out of the station. During a dry run yesterday, I didn't know about the wheel-lift so I failed to disengage the bike from its dock, even after a struggle. Then I put my Citi Bike key back into the station slot to try unlocking the bike again. Bad idea. A red light went off and I was prohibited from using bike share for a while.
My two-mile trip was the usual Manhattan mélange of heedless pedestrians, random construction and foaming cabbies. The route: the minimalist bike lane on Grand Street of painted chevrons to the protected bike lane of Allen Street to the green-painted bike lane of Rivington Street, a quick zig north on Bowery, back to the green-painted lane along Prince Street and then two blocks south on MacDougal Street to the corner of Spring Street and Sixth Avenue.
(Note: I almost always wear a bike helmet but today, of all days, I forgot mine at home. Bikers should wear a helmet.)
I obeyed all the traffic laws. The exception was the "rolling stop" I took at a few small intersections. That's when a bike rider acts like a pedestrian by stopping, looking both ways and, if the coast is clear, proceeding with caution. The move's safety is somewhat debated—and you can get ticketed for it—but I endorse its judicious use by bikers and peds.
Note: judicious!
I had to walk my bike on the sidewalk for the length of an under-construction block of Rivington Street. Hearteningly, a bike messenger for Grub Hub was walking his bike, too. We constituted a two-man tribe of model citizens.
The bike I used was a pretty good ride: functioning lights, a nice range of three speeds, and brakes that worked in the rain. After all, I got to the WNYC studios of The Brain Lehrer Show before the arrival of Jody in a cab and Kate from the subway. That's the beauty of non carbon-based locomotion and the new program that lets New Yorkers get around parts of town in a useful way.
Jody Avirgan, taxi: second place. Arrival time at WNYC: 11:35

In retrospect, it's clear my fate was sealed from the jump. The advantage of cabs is the ability to go door-to-door. The disadvantage of cabs is that they seem to have a secret way of indicating to one another that they should all abandon a given neighborhood at the exact same time. After not seeing anything at Clinton and East Broadway, I walked a few blocks to what I thought would be my best intersection – Allen and Grand. Even there, as the rain came down, it took several light shifts for a cab to materialize. Meanwhile, Jim O'Grady glided by on his bike share.
Jody, heading out to hail a taxi (photo by Jim O'Grady)
Once I did hitch a ride, I was confident I could make up the ground. Jim had perhaps a five-block advantage, and I directed my driver to take Houston crosstown, knowing there were many lanes for him to make his move. I stand by this decision, though I'd forgotten about the perpetual construction zone that is Houston Street on the LES. After Second Avenue, though, we didn't encounter any troubles. My cabbie was eating Chinese food at red lights; I was polishing off a cup of coffee in the back -- the air was thick with confidence on both sides of the partition. When I emerged from the cab in front of WNYC I was sure I'd won. I walked into the newsroom with my arms raised over my head – like I imagine Rocky would have raised them after he won a public-radio transportation experiment – and there was Jim O'Grady already in the studio chatting with Brian about his blissful bike ride.
Navigating New York City is all about a sense of control. If you feel like you are in charge, it's blissful. But as soon as you start to lose control it can spiral, quick. Not finding a cab in the first two minutes made me panic slightly. I started to walk around rather than hang tight and wait for a cab to reach my intersection. The advantage of the bike share, then, is not necessarily that you'll arrive first every time.  It simply adds choice, and increases the chances you'll feel like you are taking advantage of New York's transportation system, not the other way around.
Kate Hinds, subway: a distant, distant third. Arrival time at WNYC: 11:47
I knew going in the deck was stacked against me -- the crosstown route is practically the reason bike share was invented. (As @SecondAveSagas tweeted: "East Bway area to WNYC is one of the least direct subway routes in Manhattan.") Given few options, I accepted my fate: I would take the East Broadway F train uptown to West Fourth, then choose to either walk down to WNYC or transfer for a downtown C/E train one stop to Spring.
I left the corner of East Broadway and Clinton Street at 11:14. At 11:17, I was on the subway platform. Despair didn't set in until 11:22, when a Brooklyn-bound F pulled in. My train didn't arrive until 11:24. Wait time at East Broadway Station: seven minutes.
Maybe if I stare at the tunnel hard enough, I can will an uptown F train into existence (Kate Hinds)
While Brian did admonish us on-air to not run, I confess to adding a little pep to my step when my train pulled into West 4th Street at 11:32 -- especially when I heard a subway on the downtown side. Unfortunately it was a C train pulling out of the station. Even without access to Twitter, I knew my goose was cooked and figured Jody -- if not Jim -- was likely sitting on with his feet up on his desk back at the station. Bonus anxiety-provoker: as NYC subway riders know, the lettered lines don't have countdown clocks, so I had to make the decision to walk or wait for the next downtown local without real-time arrival information.
Dejected, I decided to wait for  the next train -- which didn't arrive until 11:40. (Combined subway platform wait time: 15 minutes.) Finally above ground, I headed back to the station, a distant third. I didn't hit get to the WNYC studios until about ten minutes before Brian Lehrer went off air, leading at least one of my colleagues to wonder if Leonard Lopate -- whose show begins at noon -- would be the WNYC host left to break the bad news.
If we repeat this experiment at rush hour, from Times Square -- I feel confident I stand a real chance at victory.