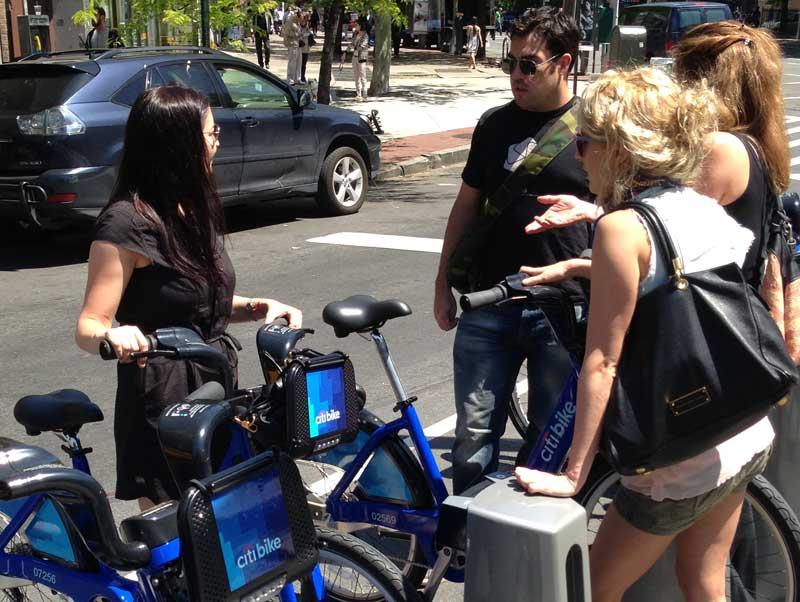 TN MOVING STORIES is available by email. Signup here. 
TOP STORIES ON TN:
Your Bike Share Questions, Answered (link)
Parsing Chris Christie on Climate Change and Storms (link)
Transportation Nation Bike Advice Project (link)
LINKS FROM ELSEWHERE:
First day stats: 6,050 trips by 5pm Monday, average trip duration was 20 minutes, 13,768 total miles traveled. (Citi Bike)
How the New Yorker marked the occasion: giving Citi Bike the cover. (link)
NYC DOT commissioner Janette Sadik-Khan will talk about the program's first day on this morning's Brian Lehrer Show.
New York Daily News column from Denis Hamill: I hate bike lanes, but I like bike share -- mainly because I enjoy political discord.
Real estate agents are now using access to bike lanes -- and hopping on bikes themselves -- to sell houses. (Forbes)
Okay, we promise there is some non-bike news and here it is:
Star-Ledger editorial: NJ Governor Christie won't admit to failure to prepare for Hurricane Sandy -- even in the face of TN's reporting.
Germany's rail network is using drones to track down and catch graffiti sprayers. (The Independent)
A Missouri highway overpass partially collapsed when rail cars smashed into one of its support pillars. (AP)
California is tackling some thorny legal issues posed by driverless cars, like: "Should a blind man be allowed to operate a self-driving car? Will an 8-year-old be permitted to "drive" herself to school? Should the vehicles roll through all kinds of weather? Who will be at fault when a robotic car crashes?" (SacBee)
Plans are taking shape in the Twin Cities area to build a transit hub near Target Field. (Star-Tribune)