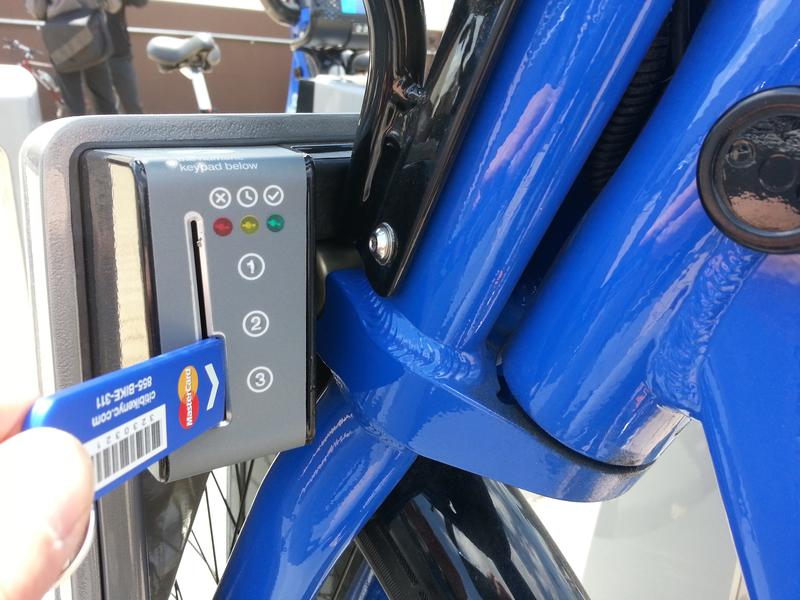 What's with no helmets?  What if there's no room in the docking station?  Aren't I going to sweat?  Everything you really wanted to know about bike share but were afraid to ask, answered here.
So, an extremely devoted following has been watching this space ever since we first broke the news that bike share was coming to New York, back in November, 2010. For everyone who hasn't been paying such close attention, here are your questions, answered.
1. What's with not having helmets?
Would you want to rent a helmet from a kiosk?  No, gross.  Citi Bike recommends you use a helmet.  So do we.  In Montreal, which has had North America's oldest large-scale bike share, you can buy all sorts of cute briefcases and bags with helmet pockets.  However, if you don't wear a helmet (only children under 14 are required by law to wear a helmet) Washington DC's Capital bike share does note that accident rates are lower among bike share users.  They speculate that's because the bikes are heavy (45 pounds!) thus hard to barrel through lights on.  But, wear a helmet. 
2.  Cool, bike share is starting right at the same time as beach season.  Can I ride my bike share to the beach?
You could, but it's probably a bad idea.  You only get to use the bike for 45 minutes for free.   After that, you start paying steeply escalating fees -- $2.50 if you ride it up to an hour and fifteen minutes, then nine dollars for up to 90 minutes and nine dollars for every additional 30 minutes. (Daily and weekly members: you only get 30 minutes. Up to an hour costs $4.00, up to 90 minutes $13.00, and each additional 30 minutes is $12.00 more).
Plus, there are no docking stations in Coney Island or the Rockaways or Orchard Beach, so you have to stay on or with your bike.  If you leave it, and it's stolen, you're on the hook for $1,000 bucks. Answer: If you want to ride to the beach on a bike, rent one from a rental agency for a day and bring a lock.  Don't use a Citi Bike.
3. Wait, I can't use it for a jaunt around the park?
Well, maybe around Central Park, or along the West Side highway, but remember, after 30 minutes (or 45) you start paying surcharges.  Really, and truly, Citi Bikes are to help you get around, especially where there are holes in the transit system.  So, for example, getting from Gramercy Park to the WNYC studios at Charlton and Varick is a pain in the tuchus by subway.  (You'd have to take the 6 to the L to the C, yuck.) 
On a bike, much easier.   You could use to go to Central Park, then dock it, then take it elsewhere.  But keep it under that 30 minute/45 minute ceiling, or you will pay.
4. Thirty minutes, where can I go in 30 minutes?  
As for a 30 minute ride, okay, you're going to know this pretty soon, right?  My educated guess is that most slow riders can get around most of the places in Manhattan below 59th street in under 30 minutes (Google will also calculate biking time for you.) Because you won't be stuck in traffic, particularly if you stick to bike lanes, you'll find this time much more predictable than driving and maybe even the subway.  But, hey, how do you ever know how long it takes you to get around town?  You ask, you figure it out.  And then, since you're a New Yorker, you'll be telling everyone else tomorrow.  Loudly. (Note: you can always right part way to your destination, return the bike, then check out a new one.)
5. What if I get to a docking station and it's full?
If you get to a docking station and it's full, Citi Bike tells you to push a button on the docking station and it will give you a 15 minute grace period plus tell you nearby docking stations with free spaces.    The Citi Bike app also can tell you where free docking stations are.  What if you drive somewhere and there are no spots?  What if you take the subway and its delayed?  Give yourself time.
6. Can I try it for a day and test it?
Yes, but not until June 3.  Only annual members get to use it in the first week.
7. Can I take it for a day with my kids? Is there only one size?

Children under 16 aren't allowed to join.  And yes, there's only one size, but you can move the seat up and down.  As for taking it for the day, you do remember what we said about using it for short hops, yes?
8. I'm way too scared to try this.
Well, you have to go with your own comfort level.  But know that many, many cities in the world have this -- Mexico City, London, Paris, Ghanzhou.  Many of which also have insane traffic and mayhem.
9. You don't really expect me to ride on in a suit, do you? I mean, arrive all sweaty at a business meeting?
Honestly, we can't help you with your personal hygiene.  In some other cities, business people do ride, because, hey, turns out biking can be faster than walking or taking a cab or the subway.  If you ride at a safe speed and stop at lights (AND YOU SHOULD!) you may find yourself getting less sweaty than you think.  You can't ride that fast in these hulks.  Also, you have chain protectors to keep your legs free of bike grease.
10. What if I need to carry things?
There are baskets.  You could fit a purse or a briefcase or a small shopping bag.  Not too much though.
11. And...what about night safety?
Citi bikes have lights that go on automatically when you pedal.  Whey EVERY bike doesn't have these is a mystery.
12. Ugh, I am NOT looking forward to all those new bicyclists and tourists who don't know the streets riding around on bikes.
Yeah, well, tourists can be annoying.  But look at it this way.  If more people take bikes for short trips, it just might be easier to hail a cab.
13.  Why isn't it in MY neighborhood?
Citi Bike was supposed to have 10,000 bikes by now, in neighborhoods from the Upper West and Upper East Sides on down, and in Brooklyn through Cobble Hill and Park Slope. But it took forever to put together the deal, and then there were those unnamed software problems, and then Sandy.  So, it's limited.  (6000 bikes below 59th street and in Dumbo, Downtown Brooklyn and through Bed-Stuy). The DOT is being totally tight lipped about when it might come to other neighborhoods.  You might guess that the Bloomberg administration would be sprinting to add more bikes between now and December 31, 2013, so as not to leave this to the next mayor, but almost  all the candidates for mayor have said they're pretty psyched about bike share, so it may not be such a rush.  We'll see.