Note to Self
Special Needs Students Teach Others About Assistive Technologies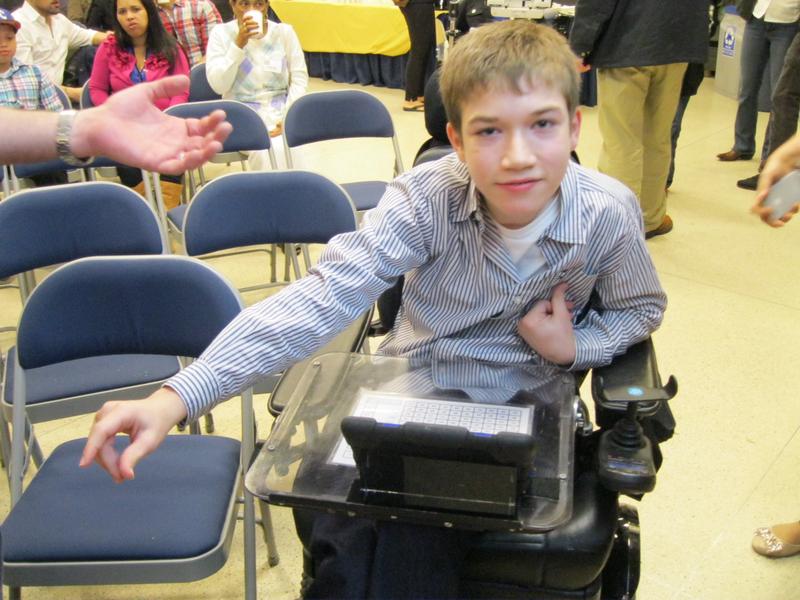 For many special education students in New York City, this school year was the first time they were integrated into general education classrooms. The move is part of city reform efforts in special education that call for more mixed classes of disabled and nondisabled students in public schools.
To make that inclusion work, students like senior Abraham Axler are calling for a greater understanding of assistive technologies for students with disabilities.
"The idea is that they're tools, not cures," said Axler, who used reading and writing technologies throughout school to help with his dyslexia and dysgraphia.
In collaboration with ARISE Coalition, Axler and six other students recently held a conference at Pace University School of Education to showcase communication tools that altered dramatically their class participation. They shared their success stories to a small group of parents, advocates and educators.
For eighth-grader Thomas Ellenson, keeping up with his peers at NYC Lab Middle School for Collaborative Studies is nearly impossible without his iPad. It's attached to his motorized wheelchair and allows him to conduct classwork through apps like Math Paper and Panther Writer.
"When you can't use a pencil, math is very difficult," said Ellenson, who has limited hand mobility and communicates through a speech app on his iPad.
Like the other presenters, Ellenson uses technologies that have been around for years. But that was the focus of his message: Students with disabilities don't need cutting-edge or pricey technologies in the classroom to be able learn.
"There's plenty of money, there's plenty of technologies, there's just a lack of understanding of what it [technology] can do and who deserves it," said Mark Surabian, assistive technology practitioner and a conference organizer.
Nineteen-year-old student Melanie Sarmiento recently began using a device called MyTobii that completely changed her high school class experiences. Because she has limited mobility and can't speak, the technology tracks her eye movements on a keyboard and verbally communicates for her.
"Before MyTobii, I would feel upset when they [classmates, teachers] didn't understand me, and I would start to cry," expressed Sarmiento, who has cerebral palsy. 
But, according to 20-year-old Justin Perez, it's not enough to just have the technology.
"You would think being verbal, but not having use of my hands, that it wouldn't be hard to teach me," said Perez, who has cerebral palsy. "Unfortunately from first to fourth grade, people thought that including me meant only that – including me in the classroom."
As a kid, Perez said he had the technology that would have allowed him to learn in general education classrooms. But his teachers and classmates didn't know how to effectively integrate it into the learning.
"That's why I ended up an illiterate fifth grader," said Perez, who now studies at Bronx Community College. 
Perez said he felt more included in the classroom when he began using voice dictation software in middle school. He considers himself lucky – he eventually regained his love for learning.
"It's the other kids I worry about," he said. "The ones without the support or technology."