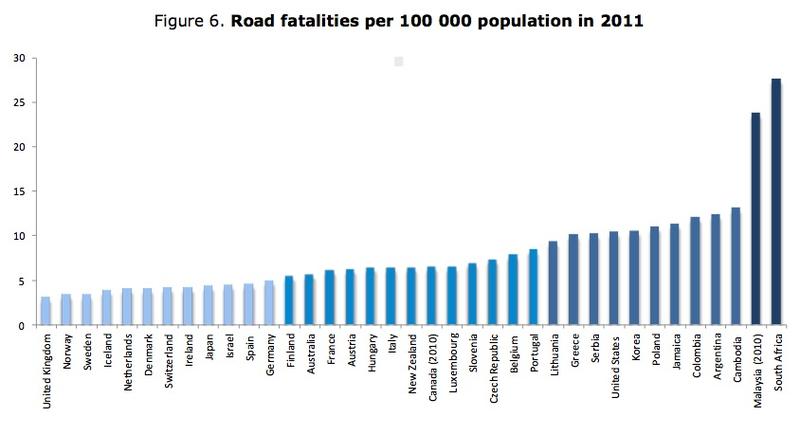 Safety is improving on roads around the world -- but mostly for drivers and passengers in wealthier countries. A study from the Organization of Economic Cooperation and Development's transportation arm finds that although 2012 was a record low year for traffic fatalities, safety for pedestrians isn't increasing as fast as it is car occupants. And the U.S. still ranks poorly compared to other well-off countries. 
The 2013 Annual Road Safety Report 2013 from the International Transport Forum surveys 37 countries and compares all kinds of data on  road injuries and fatalities. Overall, deaths are at record lows. "The figure is the lowest number of fatalities since countries [began] recording their road deaths," said Veronique Feypell, the study's author. 
The study included OECD member countries, which are considered 'rich' countries, as well as a few others. Feypell says "overall we are on a very positive trend in OECD countries."
But developing countries didn't perform as well.
That rich-poor divide might be explained by the priority countries put on traffic safety. Political awareness of road safety is a key factor in reducing fatalities, Feypell said, citing the decades-long effort of Sweden, which implemented a goal of having zero road deaths eventually.
Jose Luis Irigoyen, director for Transport, Water, Information and Communication Technology at the World Bank, said, "with 90 percent of the road crashes of taking place in the developing world it is very clear that some societies ... have made the decision that there is no tradeoff between mobility and economic development."
Last year, as we reported, the study showed people from poorer nations are far more likely to be killed in crashes than people in rich countries. 
This year's data takes a look at who is dying on the road in different countries. Some of it is predictable -- and, if it weren't so tragic, it would be cliché. In The Netherlands, which has the highest cycling population, bicyclists are the highest share of fatalities. In Italy and Greece -- countries known for scooters--  it is the "powered two-wheeler" riders who are a higher share of the fatalities. And in the U.S., it's car passengers. Here are the exact figures:
Pedestrians account for more than a third of all fatalities in Korea, Israel, Japan and Poland, whereas this figure is around 10% in New Zealand, the Netherlands and Norway. Cyclists account for a large share of all fatalities in the Netherlands (22%), in Japan (16%) and Hungary (13%) but only 1 to 2% in the USA, Greece and Northern Ireland. Powered two wheeler (PTW) rider fatalities account for a large share of fatalaties in Greece (33%), Italy (30%), France (26%) and Switzerland (24%).
Overall, in the past 10 years, "reduction of of fatalities has been stronger for car occupants than they have been for pedestrians, and for motorcyclists, the trend is very often reversed," Feypell said.
That's partly because of advances in automobile safety technology, like anti-lock brakes and airbags on up to sensors and course correction. But car companies have only just begun to implement technology to protect people outside the automobile. So up until now, policy -- in the form of road design, enforcement, and driving culture -- is what protects pedestrians.
Sweden had the third-lowest death rate (after accounting for population size) with fewer than 5 deaths per 100,000 people. The U.S. was 29th out of 37 at about double that rate. That places the U.S. beween Serbia and Korea.
In 2011, U.S. fatalities for people in passenger cars fell by 4.1 percent -- but deaths increased for just about everyone else. According to Feypell, "there was an increase in fatalities among cyclists (+8.7%), motorcyclists (+2.1%) and pedestrians (+3.0%)." Overall, though, the U.S. has been trending as a safer place to drive, walk and ride a bicycle. 
To continue the progress, the researchers call for continued improvements in car safety technology and road design along with the proliferation of drunk driving laws, but, habits can be just as important, and those vary widely from country to country. Seat belt use goes a long way to lowering fatalities, and the big challenge there is getting people to buckle up, not designing a new harness.