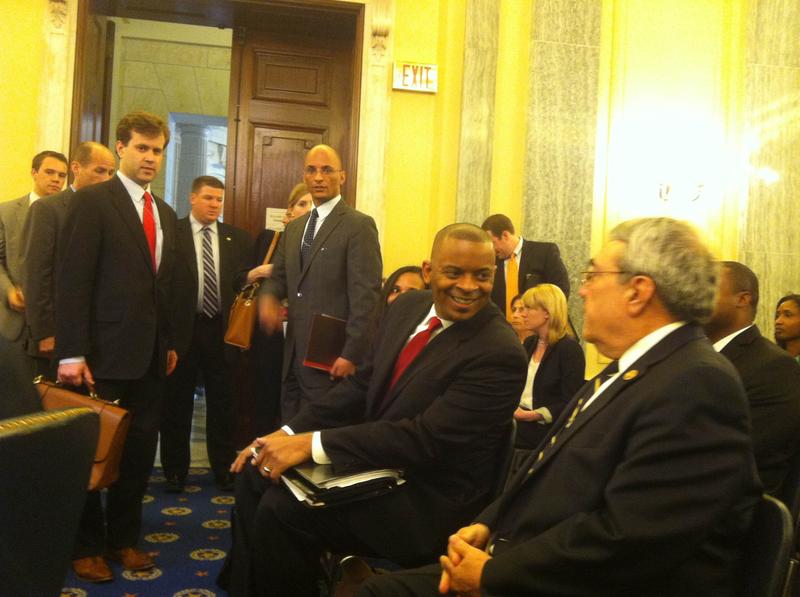 In a cordial Senate hearing that would seem to bode well for his confirmation, Anthony Foxx said that as secretary of transportation, he would prioritize safety, efficiency, and multi-modal infrastructure.
Foxx testified before a Senate committee on Wednesday, one month after President Obama tapped the Charlotte mayor to replace current Transportation Secretary Ray LaHood.
As mayor of the nation's 17th largest city, Foxx trumpeted the power of transportation projects to serve as catalysts for economic development. Foxx was a strong supporter of Charlotte's Lynx light rail system, which he said cost $462 million in public money to construct -- but spurred more than $1 billion in private investment since 2007.
Foxx faced a warm welcome from the Senate Committee on Commerce, Science, and Transportation whose members expressed support for his nomination. Their questions concerned both local and federal issues-- not to mention the enormous funding challenges the next secretary will face during a time of federal budget tightening.
"Do you think it makes sense to move beyond the current formulaic funding programs towards a more multi-modal strategic model?" said Senator Jay Rockefeller (D-WV).
"I do believe a multi-modal approach is necessary to move our country forward," responded Foxx. "We have a variety of transportation systems in this country. All of them are important. But we do have to work in a way that helps communities, states, and local governments, as well as the federal government, move this country forward in a very robust way."
Foxx promised to continue current Secretary Ray LaHood's crusade against distracted driving and support the development of the NextGen air traffic control system.
In light of the recent commuter rail derailment in Connecticut, Senator Richard Blumenthal (D-CT) asked Foxx about safety on the nation's rail lines.
"It speaks to the issue of maintaining a good state of repair with our existing infrastructure," Foxx said. "And you have my commitment to keep safety as the number one priority whether it is rail or any other mode of transportation."
"What that accident shows is that our rail lines are deteriorated and outdated and decrepit in many sections of that Northeast Corridor. Would you agree with me?" said Blumenthal.
"I think we have some general challenges with state of good repair and I think rail is one of them," said Foxx. "I know of some tracks that are probably 100 years old that haven't been repaired adequately in the past."
On the issue of tolling highways, Foxx sought middle ground. Tolling new lane capacity through the use of public-private partnerships has become a major issue in states like Virginia, where electronic toll lanes have opened on the Capital Beltway to mixed reviews. Virginia is currently building more HOT lanes on I-95 and considering a similar approach for heavily congested I-66.
"Tolling… has a place," Foxx said. "We're not going to toll our way to prosperity as a country. It is a tool that can be used in some instances, for example, to add capacity and to pay for that capacity privately. But I don't think it is a complete solution to how we deal with our surface transportation issues."
If confirmed, Foxx would succeed former Congressman Ray LaHood, who said in January he would not stay on for Obama's second term.