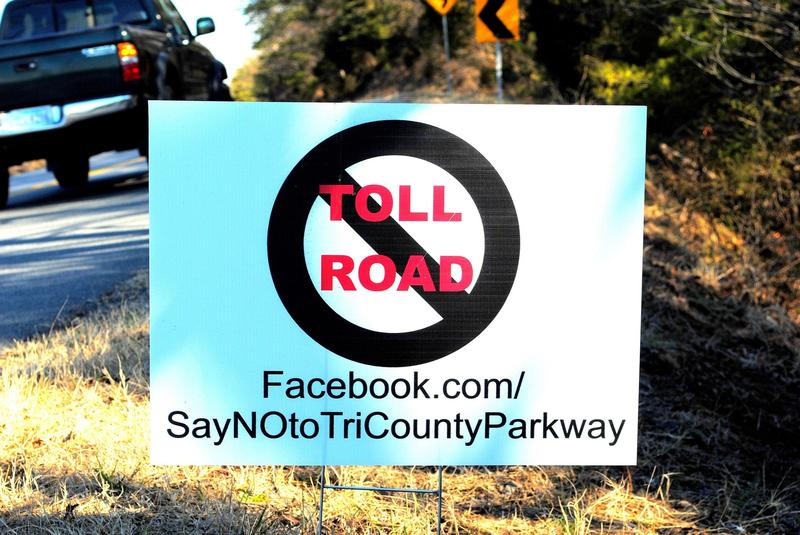 Opponents of the McDonnell administration's plan to build a major north-south highway in Northern Virginia scored a temporary win on Tuesday: they convinced the Prince William County Board of Supervisors to defer a decision to submit its transportation projects wish list to state funding officials.
A segment of the "north-south corridor of statewide significance," the 234 North Bypass, is included among Prince William County's road improvement priorities. The board is seeking state funding for the multi-lane, divided highway from the Northern Virginia Transportation Authority, which is holding its first public hearing on funding priorities May 29. The entire corridor, known as the Tri-County Parkway, would run from I-95 in Prince William to Rt. 7 in Loudoun, arcing west of Dulles Airport and possibly paving over the western fringe of Manassas National Battlefield Park.
But the corridor's width, estimated price tag of $1 billion and projected path have spurred intense opposition from both state and federal lawmakers as well as local homeowners, many of whom protested the project at Board of Supervisors meeting Tuesday.
"It will ruin our community," said Philomena Hefter, a resident of Gainesville where the highway might displace about 100 homes.
Supervisors agreed to defer a decision on submitting their county's project wish list until Virginia Secretary of Transportation Sean Connaughton could make an in-person presentation to update them on the north-south corridor. However, board chairman Corey Stewart cautioned there is little the county can do to stop the highway because it will be a state-funded project.
Opponents of the so-called "outer beltway" claimed a minor victory.
"By stopping this resolution, we're changing the dynamic and we are allowing all the information and the objections that you heard here today come to the public light," said Barry Kline, a Manassas resident. "They wanted to push this ahead. The citizens don't want that and that is why we are here."
The board's decision to defer the submission of the project wish list followed a presentation by the county's director of transportation, Thomas Blaser. While a supporter of the "north-south corridor," Blaser said the board is right to heed the complaints of residents.
"There are just a lot of unanswered questions from the grassroots folks that need and deserve legitimate answers," said Blaser, who said the county will have a voice in deciding the ultimate path of the corridor, possibly moving the plans east of Manassas battlefield.
"There is a lot of confusion regarding property rights. There is a lot of confusion about what local roads may or may not be closed. There is a lot of confusion about traffic diversion," Blaser said.
The controversy over the McDonnell administration's plan is central to the regional debate over the best use of finite transportation dollars, pitting advocates of transit and transit-oriented development against proponents of road building. Part of the debate concerns where future job and population growth will take root.
"We see a shift in our demographic from folks that are commuting to what was the old urban core to the job centers in Chantilly and the Dulles area. We know we have a lot more people working in that corridor than we did 10 or 15 years ago," Blaser said.
Opponents say the supposed need for north-south lanes pales in comparison to actual traffic demand that runs east-west.
As WAMU has reported, in Prince William County Rt. 15 (from Rt. 234 to the Loudoun County line) carries about 15,000 vehicles per day, according 2011 VDOT traffic tables. Two other north-south routes, Rt. 234 (from Rt. 29 to Rt. 659) and Rt. 659 (from Rt. 234 to the Loudoun line), carry even fewer cars daily.
The major east-west route in Prince William in the general study area of the north-south corridor, however, is significantly more crowded. I-66 (from Gainesville to Rt. 234) carries about 60,000 vehicles per day. The exception is the north-south Rt. 28 and its 54,000 daily vehicles.
"[The highway] is for Loudoun. It's not for Prince William," said Hefter after Tuesday's board meeting.
Follow @MartinDiCaro on Twitter.