Raising a Town to Save It: Highlands, New Jersey's Only Hope?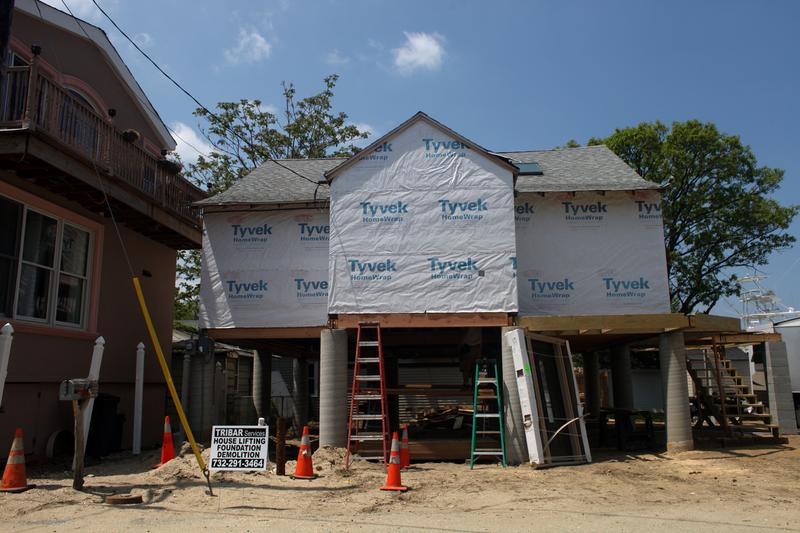 The town of Highlands is small, just over a square mile. Even though it's called Highlands, much of the borough is lowlands, sitting at or below sea level. During Sandy, the eastern part of the bayside town filled up like a bathtub, taking on about ten feet of water. Residents there are dealing with how to rebuild to stay safe from another flood. 
Mayor Frank Nolan is very aware of just how critical a solution to this problem is.  He's is a big man with a warm, casual style. As we take a tour of Sandy's wrath we view the hundreds of homes that will have to be raised up on stilts an average of ten feet if they want to comply with FEMA's new flood elevations maps. So Nolan and the Highland's environmental commission is considering a big idea that locals hope will alleviate the extreme flooding that happened after Sandy. They are looking into raising the entire town up.   
Galveston Texas raised itself up in the early 1900's after a notorious hurricane killed thousands. Stephen Szulecki who chairs the Highlands' environmental commission read about Galveston and told the Mayor about it.
"The idea is rather simple: you know you're in a flood plain and wouldn't  the best idea be to take the town out of a flood plain?" 
 Szulecki says the town's well defined natural boundaries – water to the east, steep hill to the west, make it an ideal candidate for this approach.
"It's the only real permanent solution that would release the town from the shackles of flooding and allow it to really flourish."
Barry Heffernan of Tri-Bar Services is working on raising Regina Yahara-splain's home in Highlands, NJ [ABOVE]
Town officials know it can be done.  Residents don't doubt that.  But they do have one burning question about this plan; how will they pay for it?  Mayor Nolan estimates it will cost $250-million dollars and would like to see a combination of federal, state and private dollars pay for it. 
But that federal money and state money Mayor Nolan talks about, that is taxpayer money, that critics say would be wasted on this plan.
Regina Yahara-splain's home in Highlands, NJ is being prepped for raising up on pilings. She has been displaced since Sandy and is eager to get back to her home. [ABOVE]
Rob Young runs the program for the Study of Developed Shorelines at Western Carolina University. 
"Especially when there is a desire to use public funds, at some point you have to ask the question, how much money is it worth spending, to protect one little town, and who should be paying for that cost?" 
Young says after all is spent and done, it's unlikely a higher Highlands would be able to outrun rising sea levels and increasing storm intensity:
"It may make them safer for the next few Noreasters, but I'm not convinced it's going to save them from another Hurricane Sandy."
Regina Yahara-Splain hopes that once her home is raised up, she can help others navigate the "confusing" process. [ABOVE]
It would be hard to convince Mayor Nolan of that.  He says the town's going to pay, one way or another. 
"The reality is  how much are we going to pay if we don't raise up the town? No business is going to stay if we flood every year. This is two years in a row that people lost everything they have in homes and businesses…who's going to stay?"
The Army Corps of Engineers is in the midst of studying the Highlands conundrum, but in a statement, a spokesman said "the corps is not specifically investigating…the town's Lift and Fill alternative."
photos by Amy Pearl