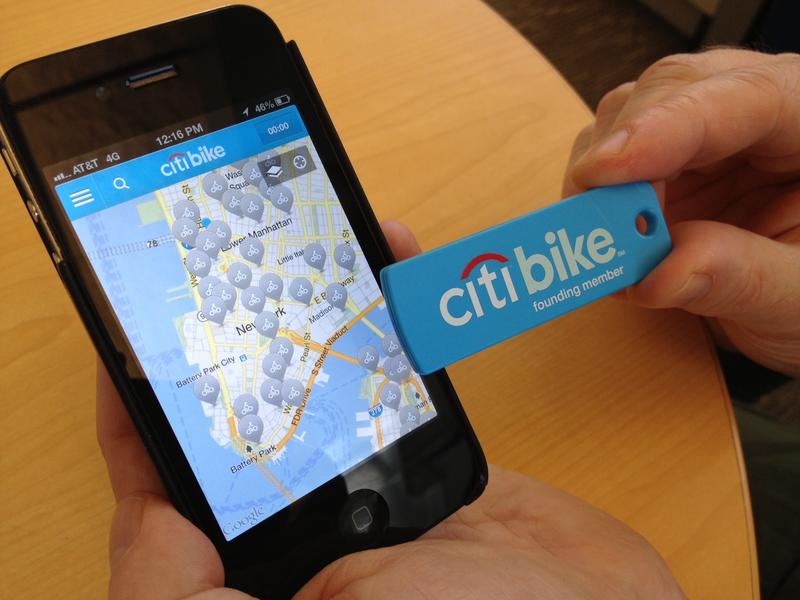 The bikes won't hit the streets for another five days, but users can now download the official Citi Bike app.
The app is available for both iPhone and Android users. It has maps, nearest station locations (because "With 600 planned locations in New York, there'll be more Citi Bike stations than tattoo parlors") and a timer. When the bike share system goes live, the app will also tell users which stations have available bikes and open docks.
Plus, it's free. (Note: the layers section defaults to mapping Citibank locations.)
The app does lack some useful functionality: the NYC Cycling Map, which is found under the "riding tips" section, brings users to a paragraph of text with a phone number.  And -- for now at least -- directions don't appear to note protected bike lanes. (In fact a sample search for directions from Union Square to Herald Square offers up walking directions. But these features may be coming: according to a New York City Department of Transportation press release, the app "will be continuously updated in the coming days." Later this summer, it will have information about nearby attractions like restaurants and coffee shops.
The Citi Bike app is not the program's only app. Earlier this month, a Belgian company released the first "live" mobile app for NYC bike share users.
According to the NYC DOT, Citi Bike now has over 12,000 annual members. The program launches on Memorial Day for a week-long members-only preview.  Daily and weekly users will get to use the program beginning on June 3.
In addition to apps, the bike share program has spawned at least one Tumblr page: People Looking at Citi Bike.
(UPDATED 2:56pm)