West Village Shaken by Weekend Murder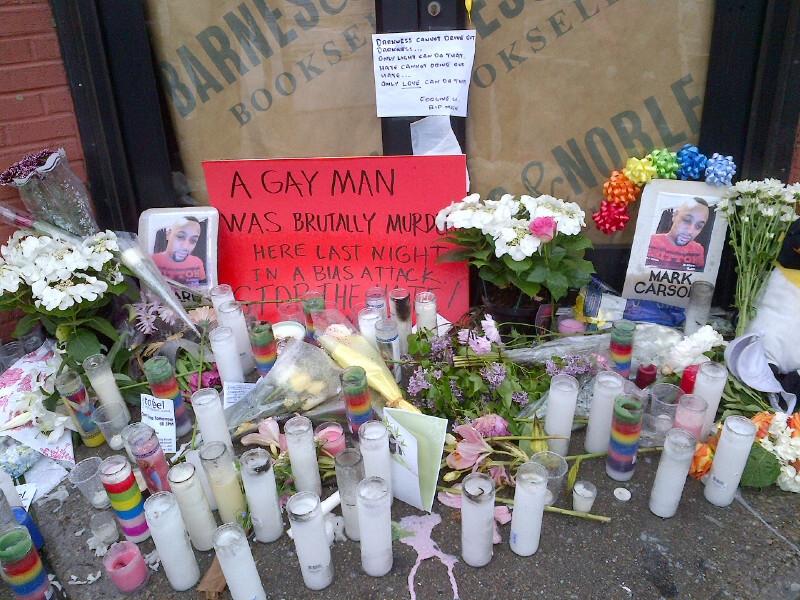 "A Gay Man Was Brutally Murdered Here…" reads a red sign propped up against the door of an out-of-business Barnes and Noble on Eighth Street and Sixth Avenue. It's surrounded by candles and flowers and two photos of 32-year-old Mark Carson who was shot in the face early Saturday morning in what police are calling a suspected hate crime.
On a cold, rainy Sunday afternoon a steady stream of passersby stopped to take in the makeshift memorial. Seathrun O'Coilleian came from Queens to see if he possibly knew the man killed. O'Coilleian said normally he felt safe being a gay man in New York City. "But it's funny when the shadow of darkness falls you're always looking over your shoulder a tiny little bit," Ocoilleian said. "And we're very aware as gay people this could happen at any time."
Alina Ramirez said she stopped at the memorial after hearing about the shooting on Instagram. The college student who goes to the nearby New School said she was shocked by the murder. "It just goes to show that as liberal as a city that we are, these things do happen," Ramirez said.
Police arrested 33-year-old Elliott Morales, who's accused of hurling gay slurs at Carson and another man before fatally shooting Carson.
A march to denounce the crime is being planned for Monday at 5:30 p.m.