Soundcheck
Ira Berkow: Music And Sports Are Both Just Rhythm And Harmony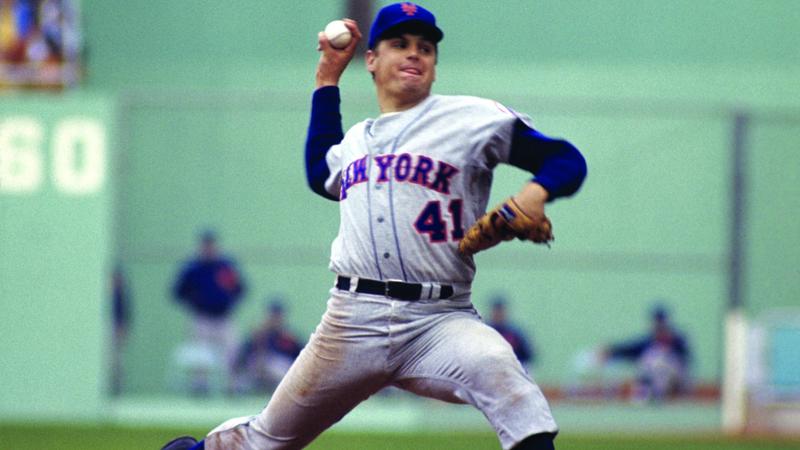 It's no secret that the Soundcheck team is made up of not just music fans, but sports fans too. We're especially interested in the way that sports and music intersect, and when we saw that the Pulitzer-prize-winning sportswriter and essayist Ira Berkow had a new collection out, we thought it'd be a great chance to indulge our second passion. Ira Berkow, whose new book is titled, Summers At Shea: Tom Seaver Loses His Overcoat and Other Mets Stories, talks sports and tells the stories behind some of his favorite songs.
Ira Berkow, on the similarities between sports and music, as demonstrated by Benny Goodman:
There's a sense of the moment, of what guys are going to do and [having] confidence in your teammates…. One of my favorite concerts and all time favorite songs is the 1938 Carnegie Hall [version of] Bennie Goodman's "Sing Sing Sing." It goes on for about 25 minutes: Gene Krupa, Harry James, Lionel Hampton, Benny Goodman. It was all improvisational. Each one knew at some moments, "OK, I take over now." To me, it was like watching a great double play. They all knew where they were supposed to be and they hit the right notes. They all hit the cutoff man.
On the late, great Chicago Cubs broadcaster Harry Caray's legendary performances of "Take Me Out To The Ballgame" during every seventh-inning stretch.
When Harry Caray would lean out of that broadcast booth and start singing and swaying, 40,000 people would turn toward the broadcast booth and begin to sway with him singing "Take Me Out to the Ballgame." It was like some kind of church epiphany. It was really a remarkable moment in sports.
On experiencing a great performance from Little Richard, despite a long wait and his wife's initial reluctance:
He wasn't showing up [to the show my wife and I went to]. It's now two hours, we're sitting there, and they have all these other bands singing — I think people from the audience were [singing]. Then the emcee says, "Little Richard is in the house!" Oh my God, he's in the house! He showed up all spangled and he starts playing "Long Tall Sally" and "Tutti Frutti." We were just jumping out of our seats. My wife couldn't contain herself. It was one of the great nights. And she said, "It was worth it to wait two hours for Little Richard!"
On discovering that Patsy Cline sang a version of "Tennessee Waltz":
"Tennessee Waltz" always used to be one of my favorite songs. I remember growing up, it was Patti Page who sang it, and it was a popular song…. I was influenced by this one-woman play to go to YouTube and to hear Patsy Cline sing it and not an actress. She brought heart and soul to it in a way that I thought Patti Page didn't because she had to homogenize it — as did Elvis Presley for "Hound Dog." Patsy Cline had a resonance for me; it's one of my favorite songs.