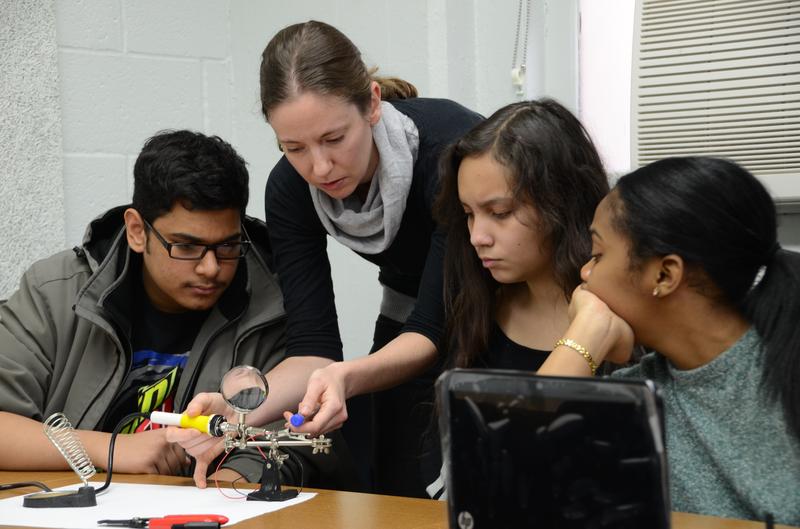 "We're in the early days of the Internet. Every other industry will be eaten by tech," says Paul Buchheit in a recent New York Times magazine article about startups. Buchheit was Google's 23rd employee and helped develop Gmail and AdSense, Google's online advertising platform.
If Buchheit is right, every American worker is going to need to know something about the so-called STEM subjects of science, technology, engineering and math.
Had my 14-year-old self known this, I probably would have started crying. I liked novels back then, not computers.
Nowadays, teachers are starting to teach STEM subjects in creative ways, using Legos, games and real-world examples. And yet, it's still not enough. Check out these statistics from Change the Equation about how the U.S. is falling behind.
We'll be talking about what makes teaching STEM so tough at WNYC's The Greene Space on Tuesday, May 21. I'm co-hosting the event with WNYC's Beth Fertig of Schoolbook. The focus will be on K-12 schools in New York City. We'll be asking: What techniques work? How can teachers and parents ensure kids succeed and enjoy learning STEM subjects?
Panelists include the Deputy Chief Academic Officer for the city's Department of Education, educators from NYU/Polytechnic University and teachers who will demonstrate some of their methods for getting students psyched to learn.
We'll also discuss how we can explain, to older kids especially, why STEM education is so important.
"Suppose you're sitting in a meeting with clients, and someone asks you how long a certain digital project is slated to take. Unless you understand the fundamentals of what engineers and programmers do…any answer you give is a guess and therefore probably wrong," writes Pubmatic President Kirk McDonald in a Wall Street Journal op-ed. "Even if your dream job is in marketing or sales or another department seemingly unrelated to programming, I'm not going to hire you unless you can at least understand the basic way my company works."
The title of that op-ed, by the way, is "Sorry, College Grads, I Probably Won't Hire You."
When I was in college, a warning like that might convinced me to transfer from Advanced Watercolor to Beginner Computer Science.