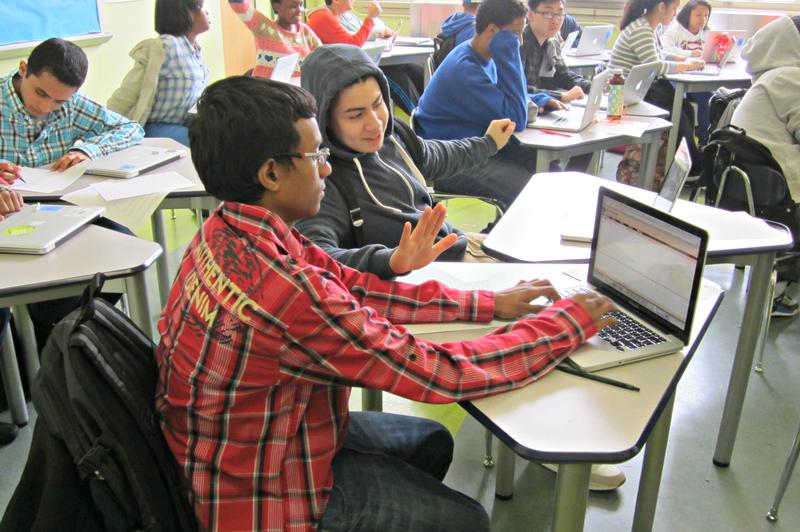 Mayor Michael Bloomberg has been pressing his idea of a "homegrown workforce" to feed New York City's tech industry, and it is one he is trying to foster in the city's public schools.
The Academy for Software Engineering, a high school in Manhattan devoted to computer science, opened in September, and the school received 1,400 applications for its next freshman class of 125.
Not a surprising showing to Gio Rascigno, 14, a current student.
"The world is pretty much dictated by computers and electronics, and you shouldn't be ignorant about something that controls the world pretty much," he said.
Rascigno said he knew some code when he entered high school. But plenty of others did not. Any eighth grader can apply to the school, regardless of grades or computer science background, and students are chosen through a system similar to a lottery.
Students take a basic coding class in their first year, along with a data functions course that blends math and computer science. They are also paired with mentors from tech companies like Foursquare and Twitter.
Seung Yu, the school's principal, said the computer science curriculum will expand over time. But he added that the success of the school will rely on establishing more industry partnerships for mentoring or after-school programs.
"We're going to need to rely on more people if we really want this school to be what we think it can be," he said.
This first year, he said, has been focused on establishing a school culture. He gives student-of-the-month awards, based on both academics and character. A student this year won an award for "Most Mature." Another received an "All Around Nice Guy" award.
The attendance rate, so far this year, has hovered above 94 percent.
Next year, the city will open a second computer science high school, the Bronx Academy for Software Engineering, and launch pilot programs on a smaller scale in 20 middle and high schools that will allow students to take computer science classes on topics including coding, web design or 3-D printing.
The number of software engineering positions is expected to increase by about 30 percent this decade, according to the Bureau for Labor Statistics.