City to Get $1.77B in Sandy Aid
Friday, May 10, 2013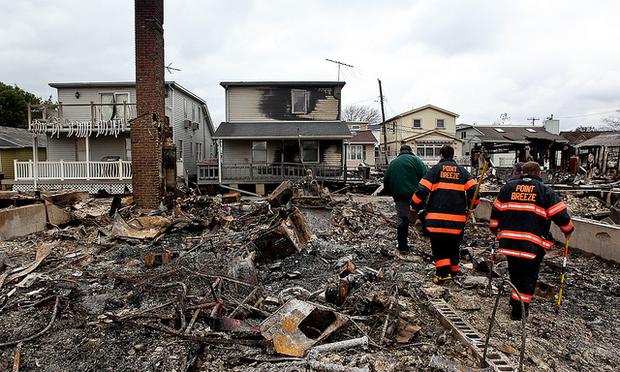 (Stephen Nessen/WNYC)
The federal government has approved New York City's plan to spend the first $1.77 billion in federal aid for Sandy recovery, after New Jersey and New York got their plans accepted last month.
"

"We were left here to die with no assistance. And that's why I'm very concerned."

— Lew Simon, Assembly District leader for the Rockaways and Breezy Point
Of the funds, $648 million will be put aside for programs to rebuild homes and make them more storm-resistant. Some $293 million will go to loans, grants and other programs for businesses. The remainder of the funds will go to reimburse city agencies for overtime and other emergency costs and be put aside for future infrastructure projects.
The money falls far short of what the city outlined in its application as unmet needs. The housing assistance, for example, represents just one-sixth of the $4.4 billion the city said it still needed for publicly and privately owned housing, even after insurance and other sources of aid are considered.
But U.S Housing Secretary Shaun Donovan said the first allotment represents about one-third of what the city should eventually receive for Community Development Block grants.
 "You should not think of today's announcement as the only funding that should be available, and in fact it is not even the majority of funding that's available," he said.
Donovan added the state is working with the Federal Emergency Management Agency to develop a plan for tapping into what is called the "Hazard Mitigation Grant Program," which pays for measures such as raising private homes above flood plains to reduce the risk of future flooding.
Michael Murr, who lives in hard-hit Gerritsen Beach, Brooklyn, said he received FEMA funds, but found that loan requirements were too onerous. He is restoring his home out-of-pocket. Now, he is concerned about what this latest round of funds can be used for.
"Are there going to be strings attached?" he asked. "They're going to want us to use this money towards the raising of our house, which is an impossible thing for a lot of people."
Homeowners will be able to apply for the funds starting in early June. They they'll meet with housing recovery specialists who'll go through the different options and pots of money available to help them rebuild or even elevate their homes. Businesses can start applying on May 20.
Listen above to WNYC's Richard Hake conversation with Matthew Schuerman about the Sandy Aid.
More in:
Stephen Nessen reports for the WNYC Newsroom and can often be heard live on Morning Edition. 

Matthew Schuerman joined WNYC in December 2007 as the transportation and economic development reporter. He covered repeated financial crises at the MTA, the most severe transit cuts in decades, as well as the impact of the recession on the Atlantic Yards project in Brooklyn and the World Trade Center redevelopment in Lower Manhattan. Since 2010, Schuerman has been an editor in the WNYC newsroom. In addition, he has recently reported a number of Sandy-related stories.