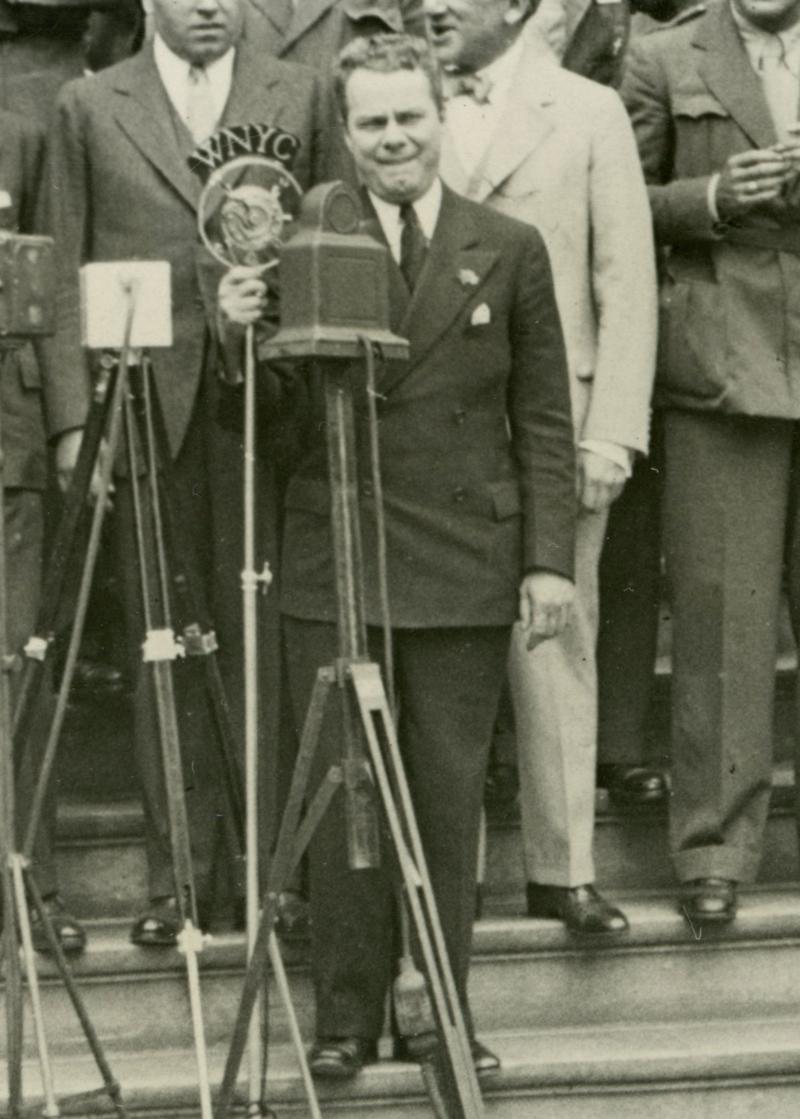 Beginning as an office boy for The World, Tommy Cowan went on to be Thomas Edison's receptionist, greeting important visitors to the inventor's laboratory in West Orange, New Jersey. From there he was the first announcer on the air in the New York metropolitan area when WJZ Newark started broadcasting in 1921. He announced the first World Series broadcast based on descriptions phoned into him from the game, as well as covering the June, 1924 Democratic National Convention from Madison Square Garden.
WNYC's founder Grover A. Whalen hired Cowan to be WNYC's Chief Announcer at the princely sum of $3,000 a year and wrote, "the opportunity which is before you...is so great, so broad, and so limitless..." [1] Cowan's was the first voice heard when we went on the air July 8, 1924.
In his 1951 oral history session with Columbia University, Cowan talks about being on the air for the myriad of parades, receptions and celebrations from the 1920s through the 1950s, especially early on when athletes and aviators came to town after making or breaking world records. For Charles Lindbergh in particular, he says, WNYC followed the flyer all around the city for a full day-and-a-half. [2] Other distinguished guests included: Queen Marie of Romania, English Channel swimmer Gertrude Ederle, British Prime Minister Ramsey MacDonald, Admiral Richard E. Byrd, aviatrix Amelia Earhart, heavyweight champion Gene Tunney, golfer Bobby Jones, Premier of France Pierre Leval and many others.
Cowan also recalls that WNYC's Masterwork Hour, radio's first regularly scheduled broadcast of recorded classical music in 1929, was a significant influence on pioneering radio engineer John V. L. Hogan, the founder of W2XR, WQXR's predecessor.  On a visit to WNYC's studios Cowan quotes Hogan as saying, "I'm going to found a radio station on the basis of your Masterwork Hour and present only classical music with no advertising."[3]
Cowan was well versed in New York City history and a serious opera lover hosting a regular program called Velvet and Gold. The writer Lee Murphy described him this way:
A delightful old sprite of a man by the time I met him. An opera lover whose Monday at 8 PM performances, recorded by the world's greatest artists, were legendary.  Each was preceded by a totally ad-libbed description of the evening's opera, highlight of the libretto and critiques (mostly positive) of the singers.  These expositions which might take 10 to 15 minutes, were delivered with verve and humor and love for the music.  But no script. I learned much from Cowan, listening to him and grasping at the wonder of how his mind advanced the narrative, sometimes logically, sometimes not, but always pulling his audience forward and into the opera's legend or fable or myth. However, as much as Tommy loved opera, he could easily denounce other disciplines.  He disdained, for instance, what he called 'chamber-pot music'.  Of popular music, he knew nothing, or at least nothing he'd admit to... [4]
The Tuesday evening hour began July 2, 1947, and was announced in Variety as "the first opera disk jockey show."[5]  The program led Cowan to be in touch with some of the opera's leading voices including: soprano, Geraldine Farrar; baritone, Lawrence Tibbet; and soprano, Frieda Hempel with whom it appears he may have been more than just an acquaintance. Inviting her on to his program he wrote:
So you see, my dear Miss Hempel, this could prove a very interesting broadcast in every detail of which your wishes will be paramount and I will be your humble slave to hold back this wonderful curtain and to help the present day music lovers to recapture some of the beauty of these brilliant days found at the Metropolitan.[6]
Cowan also knew Enrico Caruso, Nellie Melba, Luisa Tetrazzini, John McCormick and Mary Garden. In a New York Times profile, he was quoted as saying, "I don't live in the past, but I do respect the fact that I came from Adam and Eve, and you have to look back once in a while."[7] Tommy retired from WNYC in 1961. He died in November 1969. 
Cowan, ever energetic raconteur of the air, was always ready to fill any dead space with a descriptive word picture of the scene before him. To listen to more than 40 broadcasts with Tommy go to: COWAN.
[1] Whalen, Grover A., letter to Thomas H. Cowan, July 1, 1924, Thomas H. Cowan Papers, American Heritage Center, University of Wyoming.
[2] "Reminiscences of Thomas H. Cowan," 1951, on page 54 in the Columbia University Center for Oral History Collection (hereafter CUCOHC).
[3] Ibid, pg. 90.
[4] Murphy, Lee, Get That Kid Outta Here...!, Author House, 2009, pgs. 199-200.
[5] "Now Its Opera Disk Jock," Variety, June 25, 1947, pg. 2.
[6] Cowan, Thomas H., letter to Frieda Hempel, September 17, 1947, Thomas H. Cowan Papers, American Heritage Center, University of Wyoming.
[7] Shanley, John P., "Forty Years Behind the Mike," The New York Times, July 16, 1961, pg. X11.