As Corruption Scandal Widens, Black Political Leaders Reflect on Implications
Thursday, May 09, 2013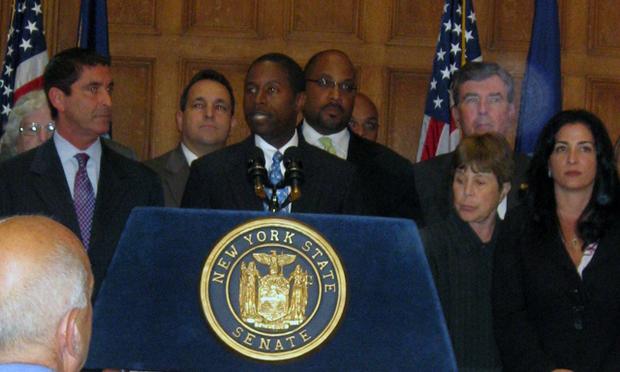 Former state Senator Shirley Huntley was sentenced to a year in prison Thursday afternoon for embezzlement and bribery. In her plea for leniency, she listed the names of more than half of dozen colleagues she recorded on a wire – almost all of them, like her, are African American.
As WNYC's Anna Sale reports, there's a sense that the widening corruption probe is a sad end to what once seemed to be a promising moment for black political power in Albany.
Basil Smikle, an African American political consultant in Harlem, said it was just four years ago when the both the governor, David Paterson, and the Senate majority leader, Malcolm Smith, were black.  
"We've waited, waited, waited, waited for decades for us to have this opportunity. It gets squandered in a moment. And a lot of folks look at that and said, we were not ready for prime time," he explained." And that I think is the heartbreaking, very disappointing realization that a lot of African Americans were coming to."
Not all African American politicians take this viewpoint. Councilman Jumaane Williams told WNYC's Stephen Nessen that power and money, and not race, drive corruption.
"For some reason when it's done by a white elected official, no one questions the entire race. When it's done by black elected officials we start to question the entire race. I'm not sure why we do it, it doesn't make sense, but that's the reality," Williams said.
Listen to Host Amy Eddings' full interview with Anna Sale above.
More in:
Stephen Nessen reports for the WNYC Newsroom and can often be heard live on Morning Edition. 

Anna Sale is the host and managing editor of Death, Sex & Money, a biweekly interview podcast at WNYC. A veteran public media reporter, Anna covered politics for years, including the 2013 New York City mayoral race, the 2012 presidential campaign, and the statehouse beat in Connecticut and West Virginia. She is a frequent fill-in host for The Brian Lehrer Show and The Leonard Lopate Show and has contributed to This American Life, NPR, Marketplace, Studio 360, PBS Newshour, and Slate.