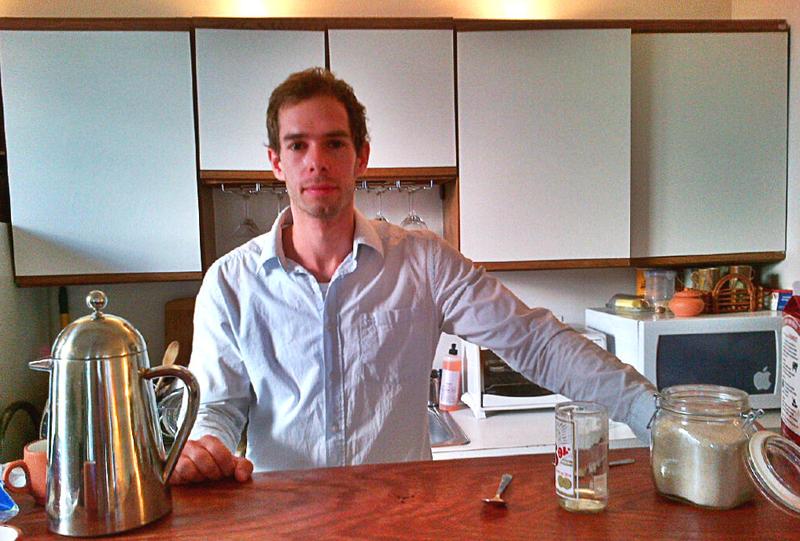 Remember Nigel Warren? He's the East Village man who racked up a pile of violation notices after renting out his apartment on Airbnb for three nights, while he was out of town. The fines could cost him thousands of dollars. WNYC reported his story in February.
After some delay, Warren and a lawyer for the city each made their case before administrative law judge Clive Morrick on Thursday.
While the two sides agree on most of the facts, they interpret state law and local codes differently. Michael Burns, an attorney with the Department of Buildings, argued that paid occupancy of apartments for "transient use" of less than 30 days is clearly illegal (friends and relatives who do not pay may legally sleep on the couch for a few nights.)
Speaking without notes, Warren argued that the law makes an exception for short-term paid lodgers when a permanent occupant is present. And he provided an affidavit from a former roommate saying she was indeed in the apartment while Warren's renter was there.
Burns countered that this interpretation was so broad as to render the law "meaningless." He said the exception should apply only to renters who intend to stay for a longer time, like a long-term lodger who renews their lease weekly.
While the violations were issued to Warren's landlord, Warren agreed to clear up the matter himself because he posted the listing to Airbnb. It's unclear how great the penalty could be. Warren has said he believes the fines could total as high as $30,000, but the judge on Thursday listed possible fines that would total $7,000. 
Also present in Judge Morrick's small, windowless office were three representatives of Airbnb, which successfully petitioned to be a "discretionary intervenor" in the case. This is believed to be the first time Airbnb has made a motion on behalf of a user.
Judge Morrick asked questions and scribbled notes on a white legal pad throughout the proceeding, which lasted over an hour. He promised to make his decision known by mail within 30 days.   
Afterwards, Warren gave himself middling marks for representing himself. 
"This was far more of an official court procedure than I imagined. And I'm not a lawyer. I don't know how to cross examine somebody," he said.