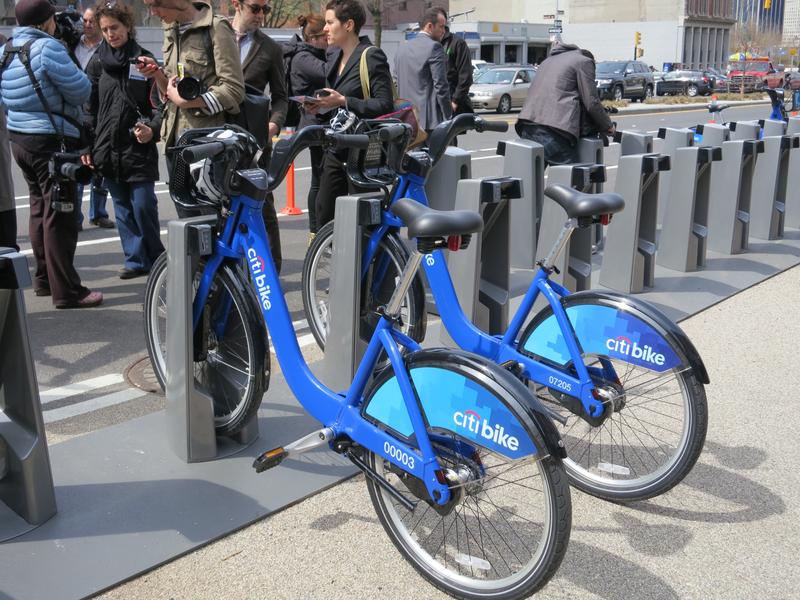 Why Memorial Day?
"It's a great day for it," said DOT Commissioner Janette Sadik-Khan. "There's less traffic on the streets, and so it will be easier for people to see how the system works."
To participate in what Citi Bike is calling Members Preview Week, individuals must purchase an annual membership by Friday, May 17th. According to Janette Sadik-Khan, who is testified before a City Council budget hearing, 8,000 people have already signed up for the program. "That's more than the entire city of Boston's membership after two years of operation," she said. "That's a very healthy demand."
The program will open to daily and weekly members on Sunday, June 2.
(UPDATED) The largest bike share program in the country will officially roll on May 27. And annual Citi Bike members will get to kick the wheels of the city's bike share program for a full week before everyone else.
The system will launch on Memorial Day with 6,000 bikes spread out over 330 stations in Manhattan and Brooklyn. It will eventually grow to 10,000 bikes and 600 docking stations around the city. It's being operated by Alta Bike Share and funded by Citibank.
According to Sadik-Khan, the city is already looking for money to expand the program beyond the initial two boroughs. "We're looking for federal funding -- an SBA loan -- to get that money in place."
The city's bike share program was to have originally launched last year, but a one-two punch of software trouble followed by Sandy flooding knocked it back to May 2013.
Read the full press release below.
New York City Department of Transportation (DOT) Commissioner Janette Sadik-Khan and NYC Bike Share today announced that Citi Bike will launch for annual members on Monday, May 27, as the 6,000-bike, 330-station system brings New York's newest and most affordable transportation option to parts of Manhattan and Brooklyn. Annual members who sign up by May 17 will receive their Citi Bike electronic keys in time to enjoy exclusive use of the system starting Memorial Day before the system opens to daily and weekly members on June 2. The initial service area includes Manhattan below 59th Street and the neighborhoods of Brooklyn Heights, DUMBO, Fort Greene, Clinton Hill and parts of Bedford Stuyvesant in Brooklyn. Citi Bike operates without City subsidy and the $95 annual membership equals about 25 cents a day for the kind of unlimited short trips that bike share is designed for.

"Now's the time for New Yorkers to sign up for their own keys to the city," said Commissioner Sadik-Khan. "More than eight thousand annual members have already signed up to get a head start on the newest way to get around, and the excitement continues to build as we count down the days to launch."

Annual memberships providing unlimited rides of 45 minutes or less are available at citibikenyc.com. Bike share will extend the reach of the city's transportation network, providing easier, faster access to destinations farther from transit stops. Starting June 2, daily memberships will be available for $9.95 a day or $25 a week, granting those members unlimited rides of 30 minutes or less at no additional cost for the duration of their membership period.

Citi Bike stations continue to be installed in the system service area following a multi-year outreach process totaling 400 meetings with community boards, elected officials, civic associations, property owners and other neighborhood institutions—the most participatory outreach process in New York City transportation history. Work continues to expand the system toward a goal of 10,000 bikes and 600 stations stretching from the Upper East and West sides to Long Island City and Sunnyside in Queens and south to Park Slope, Cobble Hill and Crown Heights in Brooklyn. Citi Bike is also creating 170 jobs and generating $36 million in local economic activity annually.