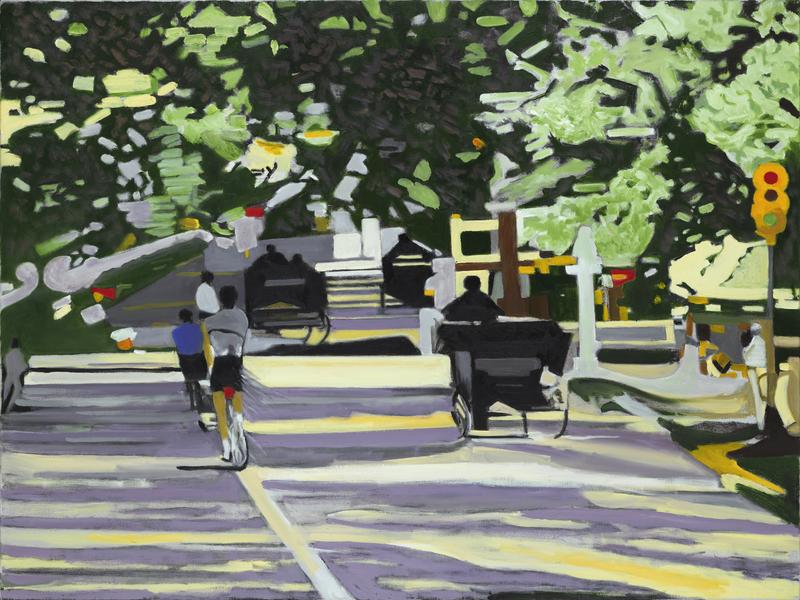 WAMU - Washington —
Construction of a westbound bike lane connecting Georgetown with downtown D.C. could begin in August, District transportation planners said Monday during a walking tour of the proposed M Street track.
A group of bicycling advocates, DDOT officials and D.C. Council members walked the 1.4 miles from Thomas Circle NW to 28th Street NW in Georgetown, the planned route of the final piece of the bicyclists' east-west traverse. The L Street cycle track, a green stripe separated from traffic by bollards, runs eastbound between the same two points. The M Street bike lane will share a similar design to its predecessor on L, but officials said it will be safer. For starters, the new bike lane will lie between the sidewalk and parked cars. On L Street, the bike lane is partially wedged between two traffic lanes.
"You will have the three foot separation that provides a little more comfort plus the parking lane adjacent to it. So actually the moving traffic will be 11 feet away from you in the cycle track and it will feel more like a trail," said Mike Goodno, a bike planner at the District Department of Transportation.
Traffic on M Street will have to cross over the bike lane to make a right turn, just as cars on L must do to make left turns. But because M Street is narrower, delivery trucks and other vehicles will not be able to illegally park in the bike lane, a recurring problem on L Street NW.
Bicycling advocates say M Street's design is an improvement.
"Because of the differences in the parking and the width configuration, we can move the parked cars off the curb and have a cycle track that's a little bit narrower so the cars can't fit into as easily," said Shane Farthing, executive director at the Washington Area Bicyclist Association.
Special bicycle traffic lights will be installed at the intersection of Rhode Island Avenue, Connecticut Avenue and M Street to improve the flow of traffic and enhance safety on westbound cycle track, Goodno said.
"Also at 22nd Street there will be more bicycle signals where we have heavy right turning traffic," he said.
DDOT is trying to spread the word about the coming bike lane now to familiarize motorists and businesses along its route about the coming changes.
"It's a balance in any city between various competing interests so you do what you can and adjust and get better at it," said Councilman Jack Evans, in a response to a question about whether a painted stripe and bollards is adequate infrastructure on heavily trafficked roadways.
Follow @MartinDiCaro