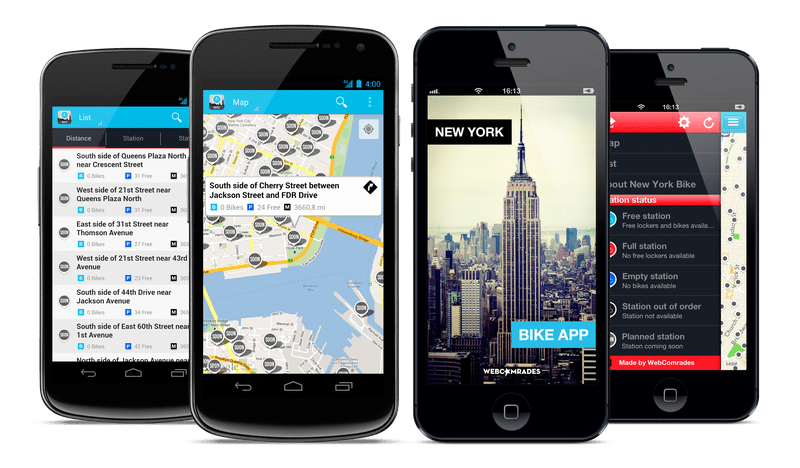 New York City hasn't even finished laying down the 330 docking stations for its impending bike share program, but anticipation is spanning oceans. A Belgian company has released the first "live" mobile app for NYC bike share users, before there are any users. Take it as a sign of what's to come when the largest bike sharing program in the nation launches later this month. 
"We activated the app to be the first," Tom Claes of the Belgian mobile app company, WebComrades told Transportation Nation. 
His New York City Bike app, available on Android and iPhone, will tell users where the nearest docking station is, plot them on a map, let riders save favorite stations and track which are full and which are empty. In an ideal scenario there is an equilibrium and every docking station has some bikes for people to check out, and some empty slots for people do drop off their bikes at the end of a ride. But experience in other cities has found that sometimes docks fill up, and an app is a helpful way to avoid the full or empty docks, or find a back up. 
The app will also calculate distance and suggest routes. These are pretty much the same features expected to be in the official Citi BikeNYC app, when it launches. It is also similar to the NYC Bike Share app that is available for download and will begin working when Citi Bike launches. 
The app is based on a version built by Claes for Antwerp, where his company is based. Claes replicated it for Saragossa, Spain and then looked west.
"We thought what is the best city in the world to do this for?," he recalls asking more than a year ago when the New York Citi Bike program was originally scheduled to launch. "So we said OK, let's plan it, and once they are ready to activate the bike share program, let's have a fan app out." 
He couldn't wait though, and launched his app even before the Citi Bike program activated. Using some clever data-scraping of the bare bones information on the Citi BikeNYC website, Claes pulls in the information about the docking stations (all currently read "planned station") and saves it to a constantly updating WebComrades server. When Citi Bike releases that information in a more traditional channel, Claes will switch his data source. He's been in touch with Citi Bike and is planning to use their officially released data once it is available. 
There is one feature Claes left out of the app, and it's the one most requested in other cities: how to report a broken bike. "That's not in the New York app because we don't know to whom to direct an email or report yet," said Claes. But he'll add it as soon as he figures that out.
There are already numerous apps for other cities with bike share, and some like SpotCycle that work in multiple cities. The official app is set to launch soon. Riders can sign up to be notified when it is available by texting "Citibike2" to 55155.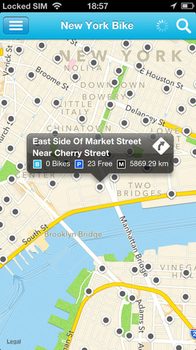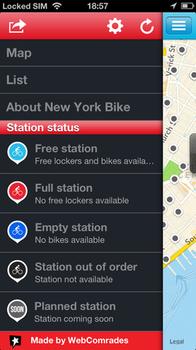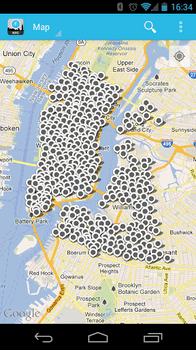 of