Brooklyn Park Named After Beastie Boy MCA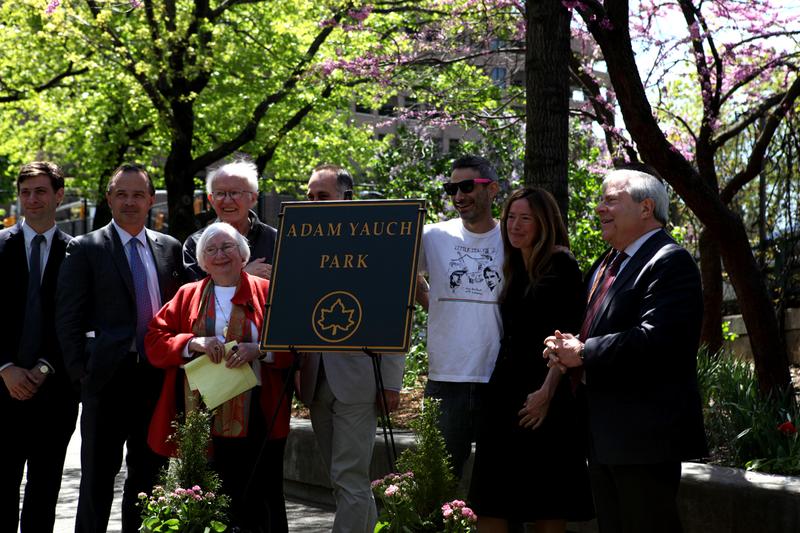 Brooklyn is showing some gratitude to the late Beastie Boy Adam Yauch, known as MCA, by renaming the Brooklyn Heights playground that he visited as kid after the rapper who died of cancer last year.
At a dedication ceremony on Friday, fellow Beastie Boy Adam Horowitz, known as Ad-Rock, remembered walking to the park one night with Yauch when they were in high school.
"We ended up in this park and he was telling me how he played here as a kid," Horowitz said. "We thought about something we could do that would be long lasting, and we thought, 'Yauch should have a park.'"
Adam Yauch Park is at the corners of State and Columbia Streets. It features a basketball court, with no nets, a jungle gym, as well as several bronze bear statues. Yauch died of cancer last year at 47.
An MCA inspired Cadillac outside the new Adam Yauch Park in Brooklyn Heights. (Stephen Nessen/WNYC)
Beastie Boy Adam Horovitz (Ad-Rock) speaking at the Adam Yauch Park's naming ceremony in Brooklyn Heights (Stephen Nessen/WNYC)
Fans wearing New Yauch City shirts at Adam Yauch Park naming ceremony in Brooklyn Heights. (Stephen Nessen/WNYC)
An MCA inspired Cadillac outside the new Adam Yauch Park in Brooklyn Heights. (Stephen Nessen/WNYC)
Adam Yauch's parents Frances and Noel Yauch attending park naming ceremony for their son. (Stephen Nessen/WNYC)
Fans brought an old-school looking, iPod playing boombox to Adam Yauch Park in Brooklyn Heights. (Stephen Nessen/WNYC)