One Man's Search for the Elusive Snakehead Fish in Central Park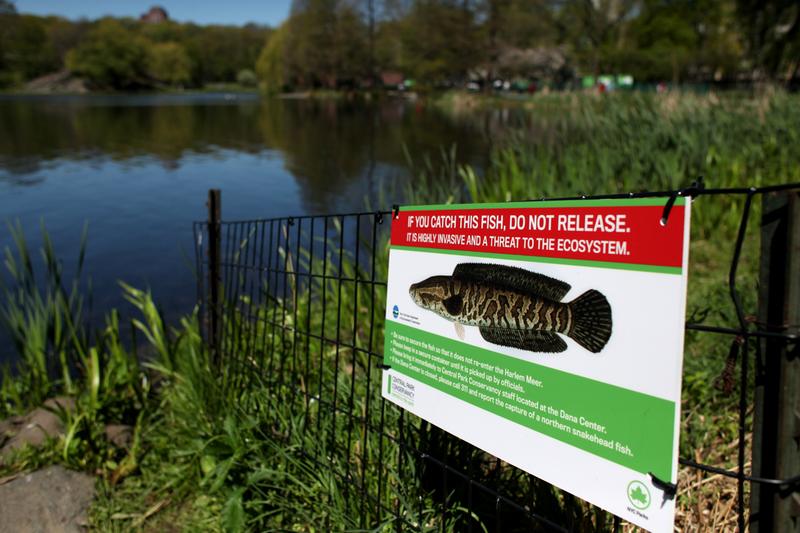 Call him Noel.
His white whale is the razor toothed Snakehead, sometimes called "Fishzilla," or "Frankenfish," for its ability to spawn rapidly and live out of water. 
Noel Rodriguez, 31, is a seasoned fisherman from Brooklyn whose favorite TV show is River Monsters, which has featured the Snakehead before. 
"It is its an aggressive fish," he said. "It's something that has to get out of this water, and I'll be trying the most free time that I have. The most days off I have, I'll be fishing here."
Rumors that the predatory and invasive fish was spotted in Central Park has captured the imagination of some New Yorkers — and it's also inspired some anglers like Rodriguez to go in search of the Snakehead, which can live for days on land.
At the western end of Meer Lake in Harlem, Rodriguez looks over his shoulder to make sure he doesn't hit anyone on the walking path. He leans back and casts his ocean rod deep into the center of the winding lake.
On his second cast, his rod starts jerking. He calmly reels in the fish. But it's just a small perch. He continues casting for another 15 minutes, pulling in clumps of green grass.
Noel Rodriguez, 31, from Bedford-Stuyvesant, fishing for a Snakehead in Meer Lake in Central Park. (Stephen Nessen/WNYC)
The Bedford-Stuyvesant native says his father, who now suffers from stage-four colon cancer, taught him to fish in Prospect Park.
"He was the one that actually told me this morning about this, so I said, 'All right pops I'll go out there. I might not catch one.' But at least he knows that I'm out there trying still, even with the tough battle he's going through," Rodriguez said.
A spokesman for the Department of Environmental Conservation said it has yet to receive a confirmed Sankehead spotting, and that it suspects the rumors started after the Parks Department installed new Snakehead warning signs last week along the lake's perimeter.
Either way, Rodgriguez plans to keep hunting for the Snakehead in New York City.