TN MOVING STORIES: Transpo News Links from Around the Web
Wednesday, May 01, 2013 - 07:52 AM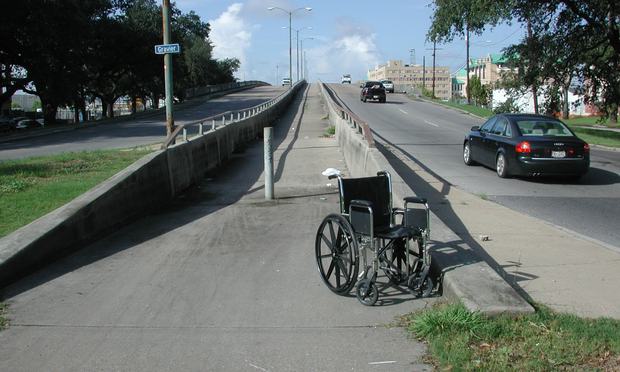 (Editor B)
TN MOVING STORIES is available by email. Signup here.
TOP STORIES ON TN:
The Curious (Legal) Case of the Bike Share Bollard on Bank Street (link)
 'Outer Beltway' in D.C. Suburbs Meets Opposition From Residents, Lawmakers (link)
LINKS FROM ELSEWHERE:
Good luck getting around New Orleans in a wheelchair. (WWLTV)
One color scheme to rule them all: D.C.'s taxis will be red and gray. (WAMU)
The first leg of Mumbai's metro rail system will open in September. (Indian Express)
In the Bay Area, more than a third of the 434 pedestrians killed during a recent five-year period were hit in crosswalks – about three times the national average. (The Bay Citizen)
Chrysler says its sales were up 11% in April. (Detroit Free Press)
New York Governor Andrew Cuomo is really looking forward to working with the new head of the MTA, whatever his first name is. (NY Magazine)
Wall Street Journal op-ed: American taxpayers might have rescued General Motors, but it's the Chinese who are benefiting. (Link)
Meanwhile, the automaker withdrew an ad running on Canadian television that features vocals from a 1938 recording referring to China as "the land of Fu Manchu" where people say "ching ching, chop suey." (BBC)
North Dakota is aiming to spend a record amount of money on road work this year -- mainly on roads in the oil patch area. (Bismarck Tribune)
Q&A with JSK: New York City's transportation commissioner talks about what's left on her to-do list in the waning days of the Bloomberg administration. (Crain's New York Business)
Pimp my walk, 19th-century style: "The Victorian walking stick was the Swiss Army Knife of the pre-automotive era." (The Smart Set; h/t @tomvanderbilt)
Side benefit of being born in a Mexico City Metro station: free transit for life. (El Universal; in Spanish)
A Spanish company is producing bicycles made out of pieces of cars found in junkyards. (Fast CoExist; video)
Kate Hinds covers transportation for WNYC News.