Future of the Rockaways Hinges on a Successful Summer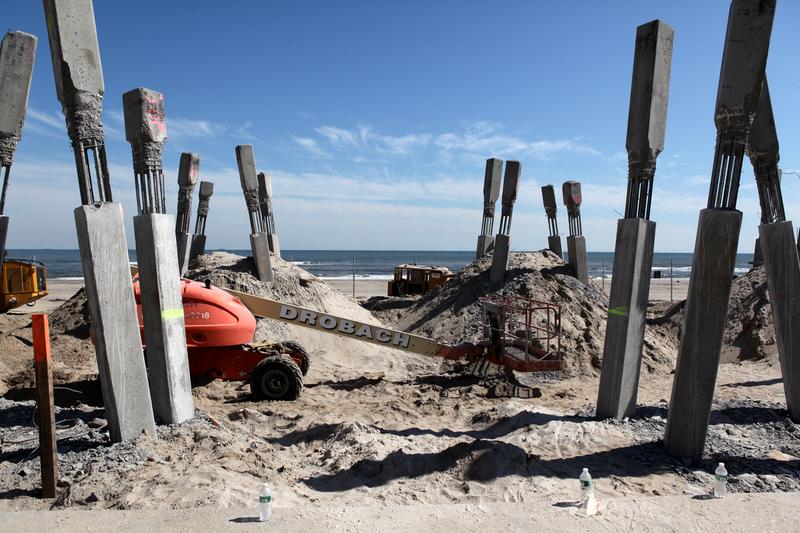 On the Rockaway peninsula in Queens catastrophic damages from Sandy are still visible, and many residents and business owners wonder if anyone will come to a beach that's still under construction this summer.
The Parks Department has crews working 24-hours a day restoring stretches of the iconic 5.5-mile boardwalk. Booming echoes from pile drivers ricochet off apartment buildings on stretches of beach from 86th street to 116th street. Its creating concrete islands in sections where the wooden boardwalk won't be replaced in time for summer. And it hopes newprefabricated comfort stations and life guard towers will be finished by Memorial Day, when the beaches officially open.
Now, the pilings for those projects jut out of the ground like ancient ruins.
The entire cost of recovery, including debris removal, is $140 million, according to the Parks Department.
On a recent Thursday, a few people strolled along what is now a much diminished beach front. Sandy swept 1.5 million cubic yards of sand off Rockaway Beach. The U.S. Army Corps of Engineers plans to start dredging sections of the beach by the end of June.
But with a Memorial Day deadline, crews are racing to finish the boardwalk, as if the future of the Rockaways depends on it. Some say it does.
Replacing the boardwalk at 94th Street at Rockaway Beach, Queens in late April 2013. (Stephen Nessen/WNYC)
"It's the hub of all the communities here in Rockaway," said Mary Beth O'Neill, 57, a local resident of Rockaway Beach. "It brings Belle Harbor to Far Rockaway, it joins four communities together and it's a much needed boardwalk in this community."
Walking down Rockaway Beach Boulevard, past a section of buildings that burned to the ground during Sandy, O'Neill is reminded of the Rockaways' recent past.
"Rockaways has been depressed for years, and the hipsters brought life back," she said. "After the hurricane, I'm hoping they're back."
Andrew Field is doing everything he can to make sure that happens. Field is the 30-year old co-owner of Rockaway Taco, a ramshackle organic food outpost on 95th street.
"Everybody stops by and pokes their head in and wants to know, 'what's the deal what's the deal,'" Field said recently.
Paying for repairs out of pocket, he's banking on a big summer. "As for us it's just a matter of the return to normalcy," he said. "For us it's like summer camp, everyone's stoked to get back to summer."
There's a clock on his website counting the days until the he reopens on Friday, May 3.
Several buildings on Rockaway Beach Boulevard burned to the ground after Sandy. Photo from December 2012 (Stephen Nessen/WNYC)
On 108th Street, Thomas Healy owns what may be the only Irish pub with a surf board on the wall. He's run Healy's Bar and Grille for 47 years, and is less optimistic about a speedy recovery.
"The beach has changed, neighborhood has changed," he said. "Lot of people left and haven't come back yet."
Healy's was a hub for information after Sandy. Running on a generator, it was a one of the few places in the area where people could watch TV, get a pint and find a friend to help remove debris from a damaged home. But many houses in the Rockaways are beach rentals, and Healy worries there won't be renters this summer.
"The beach is pretty much shot, so we don't know if we're going to have a summer crowd or not. As you can see there's no one here, it's tough making ends meet," Healy said.
The A train, the main line of transportation to the Rockaways, is still not running. To fully restore what was lost in the storm, and build a protective sea wall in Jamaica Bay, it will cost the MTA $650 million. The MTA said it's aiming to have trains running there by the end of June. Until then, the buses are a long slow ride to the beach.
A stones throw from the ocean on 116th street is the Rockaway Beach Surf Shop. Johanna Sena has run the family business with her husband Tom since 1972. She says one of the biggest changes she's noticed since Sandy is the ocean itself.
"I think Sandy has really changed Rockaway," she said. "The waves have really changed. I see that it's forceful. I saw the waves this winter, much bigger, stronger, and it could be destructive."
Down at the beach, Kevin Boyle, the editor of the local paper, The Wave, is on a lunch break, snapping photos of the construction. He's documenting the immense recovery. Boyle said everything depends on getting people down to the beach this summer.
"It's what I consider the most important time in Rockaway's history, the next few months and the next couple of years," he said.
Rockaway Beach boardwalk at 116th St in February, 2013
Workers repairing the boardwalk at 116th Street in Rockaway Beach 6 months after Sandy.
Rockaway Beach Boulevard at 114th Street in April 2013.
Rockaway Beach Boulevard at 115h Street in April 2013.
Rockaway Beach boardwalk at 116th Street in April 2013.