Applause, giant ribbons, politicians and working escalators were in abundance Friday as MTA officials re-opened the Smith-9 Street subway station on the G and F lines after 22 months of renovations. But for area residents, the word most associated with the re-opening was "finally."
Shakir Zocari runs the luncheonette at the bottom of the station, the kind that sells sodas, chips, and pre-wrapped pastries. He said the last two were, "scary. We were suffering. There was no business at all." But on Friday, he said, "Thanks God we are back in business." 
Diondre Taylor, a maintenance worker at a Coney Island Synagogue, was no less relieved.  "I really appreciate it being here now--I'm glad it's open. It's about time, it's either a long walk to Carroll Street or Fourth Avenue," the nearest subway stops.
The Smith-9 Street station, with its 88-foot elevation, is described as the highest station in the world. It underwent a $32 million "ground-up renewal," including new lighting, signage, escalators, platforms and artwork (see slide show below). 
It's part of a larger project that is rebuilding the 71 year-old Culvert Viaduct, which carries elevated subway tracks between Park Slope and Carroll Gardens. 
"There's an old rabbinic story," City Council member Brad Lander said as he took the podium after a long stream of beaming officials. "A man in the old country goes to his rabbi and says, 'Rabbi, my house is so small. And the rabbi says, 'Do you have any chickens? Bring them into the house. " Guy comes back a couple weeks later and says, 'Rabbi, the house is so small, now I've got chickens in the house. The rabbi then tells him to bring in a goat and a donkey. After a few weeks, the Rabbi says, okay, take the goat, the donkey, and the chickens out of the house.  And the guy comes back and says 'Rabbi, my house is so much larger. Thank you for solving my problem for me.'" 
"And I'm reminded of that story today as we get this beautiful new station. It's a reminder of just how important the infrastructure that serves New Yorkers is."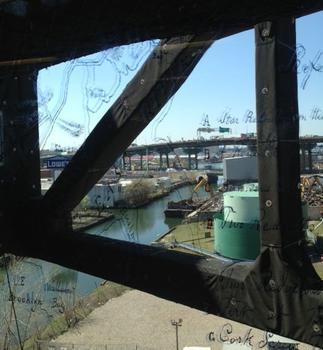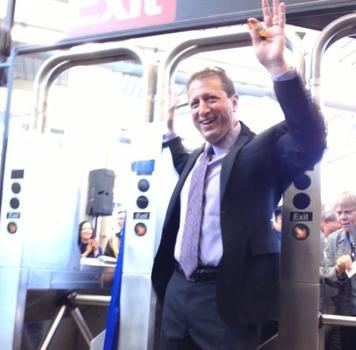 of