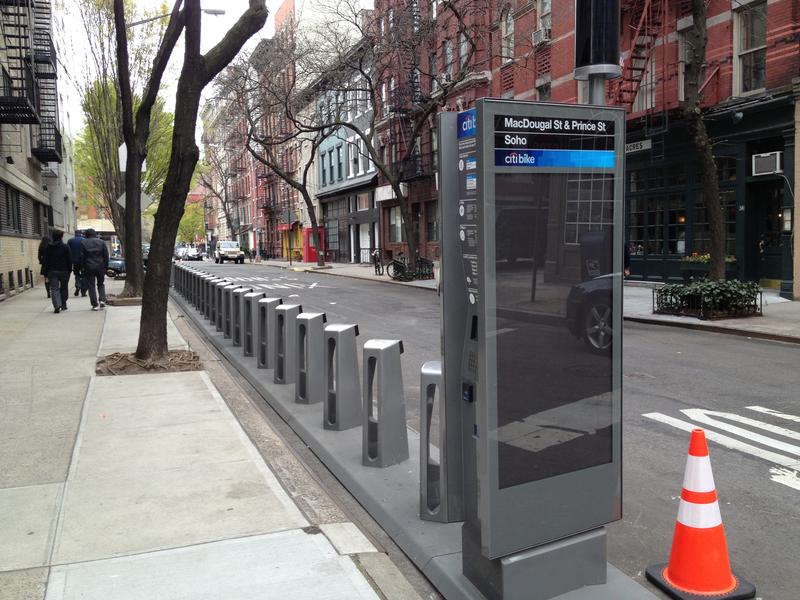 Changing the face of city sidewalks touches a visceral nerve for neighbors. So it's no surprise that as New York City prepares for the launch of a bike sharing program people are speaking out.
"Some of the stations should be moved. They're in the wrong freaking place," a heated Perell Caterino of Cumberland Street told a hastily organized town hall meeting at the Sacred Heart Church on the edge of Clinton Hill, Brooklyn, a neighborhood that is fast becoming ground zero for the opposition to the Citibike bike sharing program set to launch next month. 
About 100 residents filled the pews and waited patiently to say their secular peace as the pulpit was turned over for community venting session where Department of Transportation officials stood by calmly answering questions. 
Mixed support was the theme of the night.
"I am excited for bike share," said Hilda Cohen the block association chair of Cumberland Street. She said she spent a few hours knocking on doors asking neighbors about bike share. "Everybody single person I talked to — I'm in church, I'm honest — every single person is excited for bike share." But she admitted everybody also has a question or a concern, too.
If the complaints were synthesized into one comment it would be "Biking is great, bike share might be OK, but the station on my block is poorly placed. Also, I want my parking and I'm not crazy about those corporate ads."
Lena Hays is one of several senior citizens who feel that turning over street space for bike racks is like choosing young residents over old.
"Some of us have cars, we like to park our cars in the street and things like that," she said. "But it seems like we were never informed, they just did what they want with us and we feel we should be communication should be done with the residents."
The city has been quick to point out the extensive amount of community consultation behind the placement of the initial 330 docking stations, a number that will eventually grow to 600 stations. The Department of Transportation released a 30-page report citing nearly 400 meetings held around the city.
But no amount of meetings or studies reach everyone in a city as big as New York, let alone convince everyone reached.
Bikes have become a proxy for culture wars on how the city should allocate its most abundant public space: streets.
With 130 of the planned 330 docking stations in place as of a Wednesday, thousands of city residents have already seen the brand 
new solar-powered bike racks that can stretch for 50 feet or more
 on sidewalks or in spots where cars used to be able to park. In some neighborhoods the stations are springing up every four or five blocks, evoking giddy cycling optimism in some neighbors and offense in others. 
"It's been all over the map. There are those who support it and those who oppose it. And those in between," said City Council Member Letitia James who called the town hall meeting to let residents air their opinions. She told Transportation Nation "no one owns road. It belongs to all of us. We have to work together to share the road."
James is a supporter of bike share, but says there might be one or two stations that may need to be moved. "The question is whether or not DOT would be working with us. ...To consider adjusting a particular placement" depending on the impact, she explained. For instance, if the docking station on Willoughby Walk in front of senior citizen housing might block egress, then it should be moved she said.
She said the main complaint she has been hearing is that the modern bike racks don't respect the character of landmarked districts. "I don't agree with that," she was quick to point out, noting how the racks have been placed all around the city in all kinds of neighborhoods. But bike share stations were vandalized a day after installation in Fort Greene, as photographed above, citing the landmarks objection. The Landmarks Preservation Council was consulted and approved the stations.
Elisabeth De Bourbon of LPC said "we approved the plan for the installation of bike share stations in historic districts throughout the city because they have no effect on the historic fabric of those neighborhoods." Landmarks law already allows advertising in historic districts on street fixtures like bus shelters and newsstands. This is no different, the agency says. 
Car parking is likely to be the most enduring objection. It's a familiar refrain that has risen to the level of culture war as New York allocates a greater share of the city's most abundant public space, streets, away from cars to bikes. 
Erica Tyler is the optician at Eyedrop Optique on DUMBO's historic Front Street. She doesn't understand why people will want to bike on the cobblestones, but aside from that, she said, "where they've put the bike share stations they've taken a lot of available parking in a place where parking is already limited. I think that it wasn't well thought out." 
The city responds to these sentiments with studies, including one released last year that found increased retail patronage along new bike lanes in Manhattan. 
Tyler concedes, there might be an influx of bike customers to compensate for the loss of auto customers."I'm kind of doing a wait and see attitude," Tyler said. "It's a wait and see world."
Citibike opened registration earlier this month with a special offer for the first 5,000 members, hitting that target in just over a day. Another 1,000 members have purchased annual memberships in the weeks since. That's a hefty membership pre-sale that presages popularity. By comparison, the bike share program in Washington, D.C., currently the nations largest, has 20,000 members and almost 2,000 bikes. That system is almost operationally profitable without the sale of advertising. 
New York's Citibike, by contrast, is funded through $48 million in sponsorships from Citibank and MasterCard. 
Listen to WNYC's Marc Garber's full interview with Alex Goldmark above.