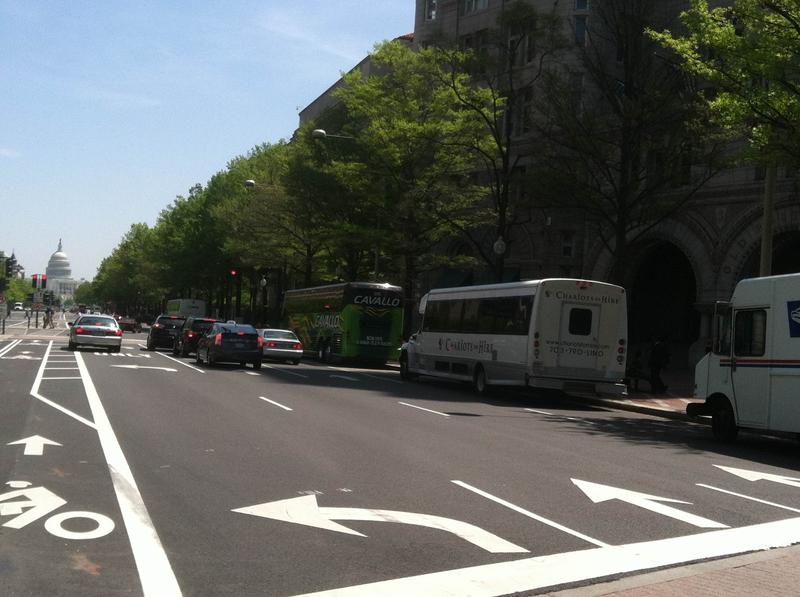 (UPDATED) The Washington D.C Party Shuttle, also known as Onboard D.C. Tours, has been declared an "imminent hazard to public safety" and ordered to immediately cease all operations by the Federal Motor Carrier Safety Administration. 
Officials say the company's president ignored hazardous conditions and that the Party Shuttle "repeatedly used a driver known to have tested positive for controlled substances and dispatched that driver on numerous occasions to operate a passenger-carrying commercial motor vehicle, but falsely claimed during the investigation that it had stopped dispatching the driver after the positive test."
It's the first enforcement action since federal officials deployed more than 50 safety investigators targeting "high-risk" passenger carriers.
The company declined multiple requests for comment. On its website, Onboard DC claims to be the "highest rated tour of Washington D.C. 4 years and counting." Its buses pick up passengers outside the old Post Office at 1100 Pennsylvania Avenue NW, not far from the Smithsonian and White House. On Wednesday afternoon none of its vehicles were seen amid the many tour buses doing business on the avenue.
A tour guide who has worked for Onboard DC for three years said the shutdown is not surprising.
"They have a great product but they don't but they don't invest money in repairing their equipment. It's all old and outdated so it was a matter of time before this happened," said the tour guide, who asked that her name not be published.
When asked if she had ever witnessed unsafe conditions, the guide responded, "They don't have first aid equipment, doors not opening properly, on a hot day the air conditioning is not working properly."
The FMCSA's 16-page report listed unsafe conditions more serious than broken doors and missing first aid kits -- although the company's tour buses were not involved in any crashes over the past 24 months, according to a U.S. DOT spokesman.
Safety investigators found that Onboard DC "failed to monitor and ensure that its drivers comply with federal drug and alcohol testing requirements." They also said the carrier does not have an effective maintenance program.
Over a two year period, the company was subjected to 20 unannounced, random roadside inspections. On ten occasions a bus was declared 'Out-of-Service' on the spot because of serious vehicle/equipment problems -- a fifty percent failure rate. The national average rate for on-the-spot shutdowns in 20 percent.
Onboard DC was also subjected to 25 unannounced, random driver inspections that involved examining a driver's commercial driver's license, log book, and medical certificate. On one occasion a driver could not produce satisfactory documentation.
Passenger bus companies have come under intense federal scrutiny since a March 2011 crash that killed 15 people in the Bronx, New York. In May 2012, the government shutdown 26 so-called Chinatown bus lines.
Read the federal order shuttering Onboard DC below.