Soundcheck
Steve Martin And Edie Brickell, In The Studio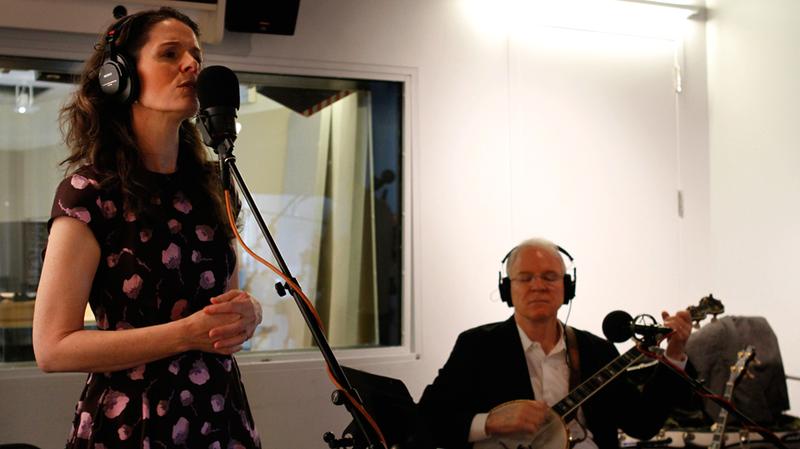 When a song opens with a banjo solo, you don't expect the first verse to contain the word "E-mail." But that's exactly how comedian, actor and banjo player Steve Martin and singer-songwriter Edie Brickell's joint effort, Love Has Come For You, begins.
The record as a whole blends traditional bluegrass with decidedly contemporary lyrics, and showcases Brickell's distinctively smoky voice and Martin's dexterous banjo melodies. 
Hear the duo in the studio, along with the Steep Canyon Rangers, performing a couple of selections from their first-ever collaborative album. And, the two give us a couple of details about an upcoming musical theater project, called "Bright Star."
Set List:
"Love Has Come For You"
"Remember Me This Way"
"Siamese Cat"
Steve Martin and Edie Brickell, on how they began collaborating:
Brickell: We were actually in New York at the same time, and I complemented him on his music and said, "If you ever want to write a song together I would love it."

Martin: And then we did this horrible thing that people never do: We followed through. That should never be done in show business, but we did it actually.
Brickell, on writing lyrics to Martin's melodies:
The music just moved me. Every tune that Steve sent to me had a very big emotional impact on me, and I could just see images and feel emotion and just let it flow.
Martin, on the similarities between writing comedy, prose, and music:
There's a certain rhythm to all of that, especially comedy. I feel that way in prose, too. You can almost feel the rhythm of the sentence, you can feel the interior rhythm of the sentence, you can feel the rhythm of the paragraph, and if you're lucky, you can feel the rhythm of the whole book that you're working on. I think in some way — I feel this way about this record — that whether we intended to or not, the entire album has a rhythm and organic-ness to it….
For more photos from this session, visit Soundcheck's Tumblr page.