TN MOVING STORIES: Transpo News Links from Around the Web
Sunday, April 21, 2013 - 07:38 PM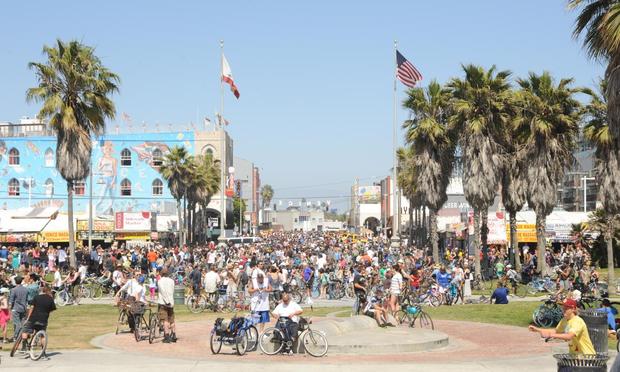 (www.YoVenice.com/flickr)
TN MOVING STORIES is available by email. Signup here.
TOP STORIES ON TN:
Silver Line Phase II bids unveiled; low cost likely to be top factor. (Link)
Will the 2014 Super Bowl be the first to rock mass transit? (Link)
Here's what Boston's transportation lockdown looked like. (Like)
LINKS FROM ELSEWHERE:
Happy Earth Day! Enjoy today's Google Doodle while you can.
NJ needs to spend a staggering $70 billion to fix its aging infrastructure, including $21.3 billion to upgrade its roads, highways, bridges, and mass transit system. "The report paints a bleak future for economic growth in New Jersey, unless state leaders and, more importantly, the public step up to the plate and begin to clamor for money to fund infrastructure improvements." (NJ Spotlight)
150,000 bike riders took to the streets for yesterday's CicLAvia in Los Angeles. (Los Angeles Times)
The most dangerous thing about working: driving. "In 2011, 30 percent of on-the-job deaths were either 'roadway incidents' or 'pedestrian vehicular incidents'—i.e. cars and trucks slamming into each other or into pedestrians." (Slate)
The World Bank is working on setting up a global infrastructure fund. (Wall Street Journal)
FAA furloughs went into effect Sunday...(AP via U.S. News)
...which could mean flight delays across the country, including the already oft-delayed NYC airports. (WNYC)
Under the plan, all FAA employees will lose one day of paid work every other week. (NBC)
Meanwhile, across the Atlantic: Lufthansa suspended almost its entire service for a full day due to a strike. (Bloomberg)
One thing that will be flying, possibly as soon as this week: Boeing's 787 Dreamliner, whose revamped battery was cleared by the FAA. (Ars Technica)
NYC is experimenting with electric taxis. (New York Times)
Suburban bus ridership is up in the D.C. area -- but it's best to build some extra time into your commute. (Washington Post)
New York's Rockland and Westchester counties need to settle on a bus transit plan for the new Tappan Zee Bridge. (Newsday; subscription)
Biking is booming in Budapest. (Al Jazeera)
Biologists are in a race against time to rebuild Sandy-destroyed beaches of Delaware Bay before horseshoe crabs come ashore to lay their eggs. No crab eggs = no food for migratory shore birds. (WNYC)
Kate Hinds covers transportation for WNYC News.