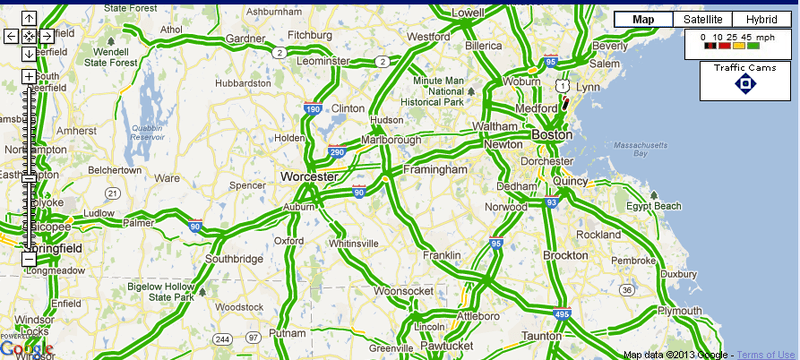 With a massive manhunt underway for the suspect in Monday's Boston marathon bombing, Boston's metropolitan area is experiencing near total transportation shutdown. And it's shocking in its scope. 
All mass transit is shut down in Boston. Buses in and out of the city have been cancelled. Amtrak has cancelled rail service. People are barely moving around Boston. Taxis are the only form of public transportation at this time. 
Under normal circumstances, a traffic report with this much open road would be a driver's miracle. According to MassDOT's traffic cameras it is open roads across the entire region. 
Zoom in closer on those traffic camera map and the only short stretches of congestion are around downtown, next to City Hall and government buildings, and around Logan airport, which remains open under high security alert. 
The live traffic cams show there are some private cars on the highways, but it is mostly open road, as of 3:00 pm.
Elsewhere in the Boston transportation universe, it's messages like "closedown," "suspended," "alert."
The T is closed. All of it. 
Amtrak isn't going to Boston today. 
Megabus and other bus companies have cancelled dozens of buses in and out of Boston from New York and other nearby cities, normally one of the busiest intercity bus routes in the nation. 
Planes are flying.  Taxis are open for business.  That's it.