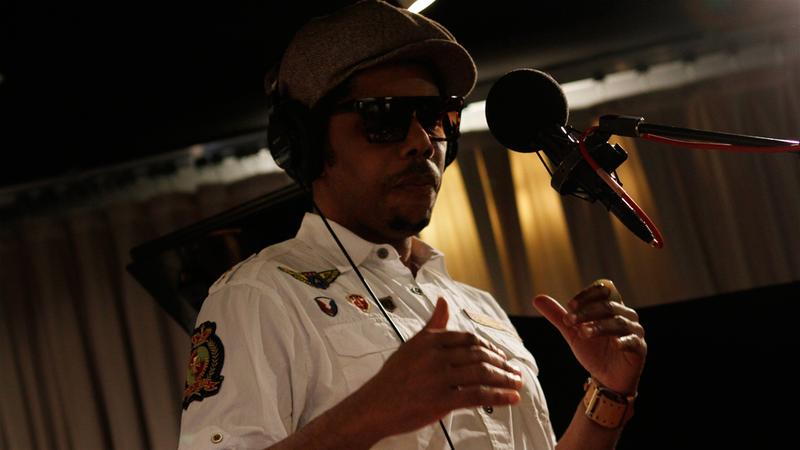 The poet and novelist, Carl Hancock Rux, considers the written word to be a kind of performance art. His poems are often not recited, they are in fact performed — with a band. It's a tradition that goes back to poets like the late Allen Ginsburg, and possibly all the way back to Homer.
Carl Hancock Rux and members of his band performs selections from his latest album, Homeostasis, live in the Soundcheck studio.
Set List:
Carl Hancock Rux, on the inspiration behind Homeostasis:
I had just been listening to a lot of Frank Sinatra records and reading books about orchestrations, arrangements, and [Sinatra's orchestrator] Nelson Riddle. And I thought, "I'd like to make a new record, but I don't want to make a record like the other records that I've made." I wanted to give more space to the music. I wanted poetry to have its place, but I didn't want it to dominate.
On mixing electronica, classical, and jazz to create his genre-blending sound:
I think it's driven by my life experience. I can never get away from loving so many different kinds of music and wanting to see how they all live in the same room. And how they help move music forward, or move me forward. I am a big fan of jazz, a big fan of classical, a big fan of R&B sometimes, a big fan of soul, a big fan of hip hop — all those things.
On trying to maintain homeostasis as an artist and a person:
I think it's so easy to think that you are maintaining balance, and it's so easy to think that maintaining balance itself is an easy task. And it's not necessarily. It takes some work. And it takes some meditation and some concentration, and, of course, discourse.