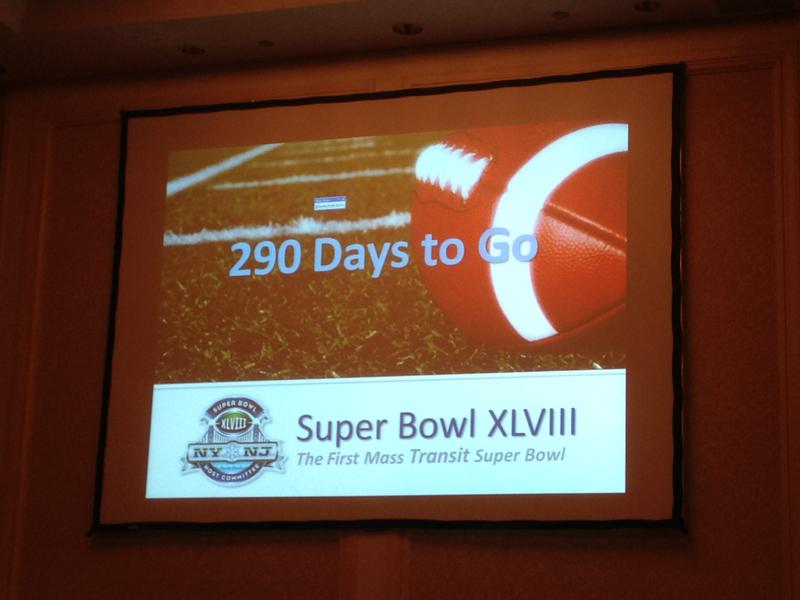 While many details are still being worked out for the 2014 Super Bowl, one thing is clear: organizers don't want ticket holders to drive to the Meadowlands, in suburban New Jersey.
"We want the vast majority (of attendees) to take rail and bus," said Mary Musca, a VP for the New York-New Jersey Super Bowl Host Committee. "There will be not a lot of onsite parking...private parking will be very, very restricted."
Super Bowl organizers and transit officials detailed plans for the February 2, 2014 event at this week's NJ TransAction conference in Atlantic City.
But to make a mass transit Super Bowl happen, first the region's transit providers -- NJ Transit, New York's MTA, the PATH system, even Amtrak and NY Waterway -- have to coordinate. "We're concerned about having a seamless transportation experience," said R.J. Palladino, an assistant director for NJ Transit.
One of the biggest challenges: providing service to tens of thousands of people who may have never visited the region and have never swiped a fare card before. Officials said typically 35 percent of Super Bowl attendees don't even know they're coming until two weeks before the event, when the playoffs are over.
Another challenge: the Super Bowl is not just a Sunday night game, but rather a week-long extravaganza involving hundreds of related events. In Manhattan, the focus will be on "Super Bowl Boulevard," a stretch of Broadway, from Herald Square to Times Square, that will be closed to traffic for up to 12 hours each day from Wednesday to the Saturday before the game.
To prepare, transit agencies will be adding service and beefing up signage, especially in New York's Penn Station, where the MTA is looking at adding dynamic electronic maps providing real-time transit information.
NJ Transit is also making some capital investments in its infrastructure, like extending platforms at its Secaucus station so it can run longer trains (10-car, as opposed to eight-car) to MetLife Stadium. NJ's Department of Transportation said it was also considering bus-only lanes on the highways surrounding the Meadowlands. Another area of focus: pedestrian safety. "People were crossing Route 3 during Wrestlemania," said one DOT official, talking about a large-scale event held at the Meadowlands earlier this year.
The host committee is also recruiting what they hope will be up to 18,000 volunteer "ambassadors" who will be stationed throughout the region to help point travelers in the right direction.
"There's no substitute for having somebody in a special jacket," said Rich Andreski, a rail chief at NJ Transit.